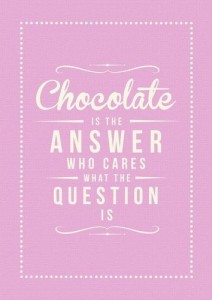 I could end this post with that quote above. But I won't. No self-respecting writer will turn down the chance to write more words. So, here we go. It's the ramp up to Valentine's Day and I'm beginning with the most obvious food choice for the most romantic of holidays–chocolate.
We all know, don't we, that chocolate is one of the New World's contributions to Europe? Cortez probably brought it back to Spain. It was said to be an aphrodisiac and was so expensive it was a treat for only the very wealthy. (If you'd like more information on the history, I used "Simple Sexy Foods," by Linda DeVillers, PhD as my source.)
There's scientific evidence that chocolate is a mood enhancer. It contains neurotransmitters which reduce endorphins and boost seratonin, both of which contribute to a feeling of well-being. It makes you feel good to eat chocolate.
Of course it does.
Just as our European ancestors thought a good day included a cup of drinking chocolate, I consider Valentine's Day incomplete without some form of chocolate. We're lucky in the area that there are plenty of local chocolatiers from whom to get artisan candy–Moonstruck is one–and there are local drinking chocolate brands like Dagoba. I've raved in past blogs about chocolate fondue (here's the link to that recipe http://wp.me/p3CpL5-e) and dipping strawberries in chocolate. There's nothing wrong with either of those choices for the big V-Day unless, like me, you prefer your strawberries in season and local.
But sometimes nothing beats the simple elegance of a good chocolate syrup over a gourmet ice cream. No need for whipped cream, cherries or nuts. Just thick, warm chocolate over decadently rich vanilla ice cream. Two long spoons so you can feed each other and you have romance in a bowl.
Practice this week so you're ready for Valentine's Day!