Last Wednesday I suggested that a romantic meal needs the right person, a nice table setting, some candles and Sangria. This week, I'd like to add another element–a soundtrack.
Music has always been important to me. I listen to music when I write, when I clean, when I'm working on art glass. Different music for different tasks, of course. Usually when I write I don't want to hear anyone's words except my own, so instrumental-only is what I choose. When I'm in housekeeper mode, it's always been soundtrack and show music. In fact, when my daughter came back from her first term in college, she taped (yes, it was that long ago) all my musicals because she was so used to cleaning with soundtracks she missed it.
And working on art glass? Rock, R&B, jazz–I have a three hour playlist I know by heart.
For romantic dinners it depends on the people involved, doesn't it? If your significant other doesn't like classical music, even the most romantic Chopin will be lost. Ditto if Andrea Bocelli doesn't do it either. WIth that caveat, here are a few suggestions. The first is a playlist I found on Pinterest (I'm addicted) from, of all sources, Honey-baked Ham's website: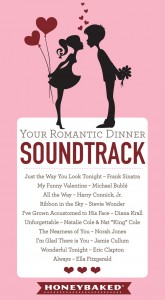 My personal faves? Well, anything by Sinatra but especially "All the Way" and "Witchcraft." Ditto Andrea Bocelli but particularly "Can't Help Falling in Love." For local flavor, Chris Botti's "Look of Love" and Pink Martini's "Let's Never Stop Falling in Love."
Spend the time with your phone or iPod to make a playlist. You won't regret it.
And now, what to serve while the music plays. I'm still stuck on pomegranate and oranges so here's a salad I've concocted using the two. It pairs well with roast chicken.
For three servings:
2 medium oranges, peeled and sliced thin
1/4 cup thinly sliced red onion
1/2 cup pomegranate seeds
3 cups torn salad greens (I use Romaine)
1/8 cup mild olive oil
1 tablespoon wine vinegar
salt and pepper to taste
Line salad bowl with torn greens. Toss citrus, onions and pomegranate seeds and arrange on greens. Whisk together oil and vinegar and pour over salad. Add salt and pepper to taste and serve.