Holidays over; new year begun; time for resolutions and reflection. Here are some of mine:
1. I'll be blogging here once a week, on Wednesdays, from now on so I can have the time to blog on my own website once a week.
2. The focus won't change–I still want to blog about the connection between food and romance, feeding our souls as well as nourishing our bodies.
3. Each post will have a recipe.
4. I'll try to make it as seasonable as possible.
There, that shouldn't be too hard a set of resolutions to keep, should it?
Let's start the year with what makes for a romantic meal. Obviously, the first thing is the right person. Eating peanut butter and jelly sandwiches at the kitchen counter can be romantic if it's done with the right person. But, as much as I love PB&J, I prefer something a little more grownup for a romantic meal. A lovely table setting, delicious food, a bit of wine. Here's a photo of a beautiful table setting I found on Pinterest as an example of the first:
Next, the food–I'm leaving that to your discretion this week but whatever you make, serve it at the best table in the house, on nice china with candles blazing.
As for the bit of wine, how about sangria? I know, it's usually a summer drink. But  I have this recipe for pomegranate and orange sangria and both fruits are widely available this time of year so it's a good in-front-of-the-fire drink. And I thought about the recipe when I saw containers of pomegranate seeds in the produce section of Fred Meyers the other day.
Pomegranates may have been, some scholars have theorized, what Eve ate in the Garden of Eden. It was considered a symbol of fertility in ancient cultures, probably because of the many seeds within each fruit. The combination of flavors works very well, I think, and now, thanks to the convenience of already seeded fruits in the store, we can enjoy pomegranates with little fuss and bother.
Here's the recipe for 4 servings of the perfect winter sangria:
1/2 bottle red wine
1/2 cup pomegranate juice
1/2 cup pomegranate seeds
1/2 cup orange juice
1 orange, sliced
1 cinnamon stick
Combine all ingredients and stir thoroughly in large pitcher. Chill for a couple hours and serve.
It's delicious. And pretty–take a look: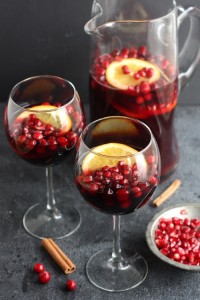 So enjoy our wet and rainy week. See you next Wednesday.