A Foggy Day in the 'Couve
It's one of those days where being snug inside with someone special is the only way to go. Okay, snug inside after you've braved the hordes at the mall and finished your Christmas shopping. Whichever.
So, what's a romance addict to do? Make soup, of course. Potato soup. Here's how: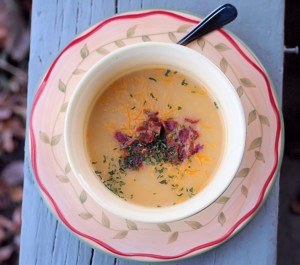 For 2 servings of soup:
Ingredients
2 slices bacon, crisp-cooked & crumbled
2-4 medium Russet potatoes, peeled and cubed
2 C chicken broth
salt & pepper to taste
3/4 C shredded cheddar cheese
Instructions
Boil the potatoes in the chicken broth 20 minutes, or until tender.
Mash and mix with the broth until the soup is the consistency you like. Season with salt and pepper. Return to low heat and add 1/2 the cheese. Stir until melted.
Serve in bowls topped with crumbled bacon and remaining cheese sprinkled on top.
Serve with crusty bread and grapes. Also candles, or a roaring fire and your favorite mood music.