With the end of November the torture known as National Novel Writing Month has ended. I hit the goal of 50,000 words on a new novel and can now get back to what passes for normal.
And I seem to recall a promise to post a recipe for cheese fondue. With the weather cold, windy and a bit snowy in Vancouver today, it's a great idea for dinner if you don't want to brave the weather and go out for dinner with your special person.
When I first thought of posting this recipe, I had a scene in my novel where my hero and heroine shared fondue at her home. That scene didn't make the final cut for the novel but here's the recipe anyway.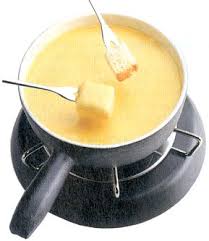 Cheddar Cheese Fondue–makes 2 cups, enough for 2-3 people
1 lb. cheddar cheese cut into 1″ cubes or grated
1 tblsp. cornstarch
1/2 tsp dry mustard
1 tablespoon butter
1/2 tsp. Tabasco sauce
1 cup beer
Use food processor to combine cheese, cornstarch and mustard until finely chopped and blended. Bring butter and beer to boil and pour through the feed tube of food processor. Process until mixture is smooth.
Pour into fondue pot (I like an electric one but the kind with Sterno for heat works well, too.) Add Tabasco and stir. If mixture is too thick, add more beer or water. Bring out the fondue forks, cut up French bread pieces and apples and dip to your heart's content. Fork fights over dropped apple slices are allowed.