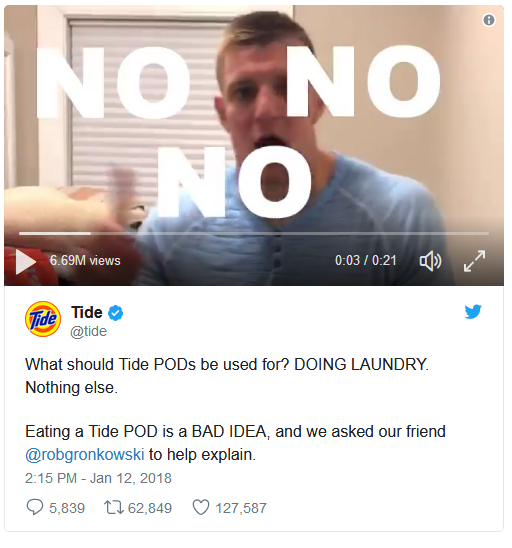 Laundry pods are for washing laundry. Not eating.
This should go without saying. But, thanks to an internet challenge, teenagers are now biting in to the single-load laundry packets and posting videos on social media.
This has become a big enough deal that the American Association of Poison Control Centers is warning people of the toxicity of laundry detergent. And Tide – with the help of New England Patriots tight end Rob Gronkowski – launched a social media campaign to tell teens to stop eating laundry pods.
During the last five years, poison control centers across the country has received more than 50,000 calls about laundry packets. Most have been accidental exposure to children younger than 5.
That is until teens started the laundry pod challenge.
In 2017, poison control centers handled 53 cases among 13 to 19 year olds. In the first two weeks of this year, the centers have already fielded 39 intentional cases among teens.
"The 'laundry packet challenge' is neither funny nor without serious health implications," said Stephen Kaminski, the association's CEO and executive director, in a news release. "The intentional misuse of these products poses a real threat to the health of individuals."
Tide and Gronk teamed up to on Twitter to remind teens that laundry detergent is for, you know, laundry.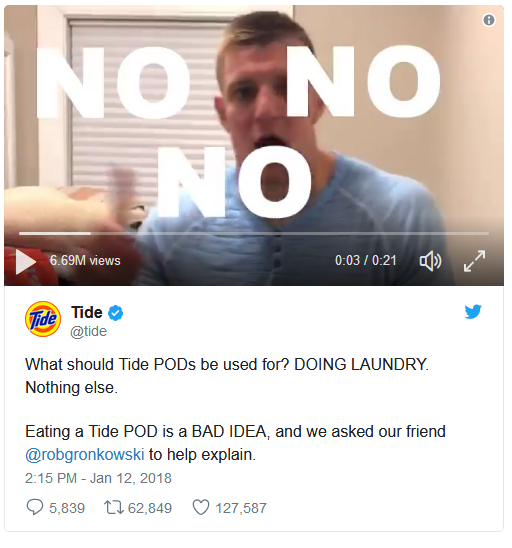 So listen to Gronk: Don't eat laundry soap packets.