FDA warns against use of teething tablets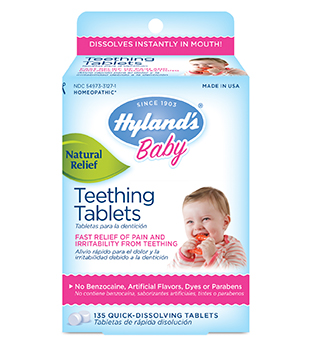 The U.S. Food and Drug Administration is warning parents that popular homeopathic teething tablets and gels may be harmful to infants and children.
The FDA is analyzing adverse events reported after the use of homeopathic teething tabs and gels, including seizures in infants and children. The FDA is investigating the cases and testing product samples.
The FDA recommends parents stop using the products and seek immediate medical care is their child experiences seizures, difficulty breathing, lethargy, excessive sleepiness, muscle weakness, skin flushing, constipation, difficulty urinating or agitation after using the homeopathic products.
This isn't the first time the FDA is warning people about homeopathic teething products. In 2010, the FDA issued a safety alert about Hyland's Teething Tablets.
The 2010 alert warned consumers that the teething tablets contain a small amount of belladonna, a substance that can cause serious harm in larger doses. FDA lab analysis, however, found that Hyland's Teething Tablets contained inconsistent amounts of belladonna.
In addition, the 2010 report said the FDA had received reports of serious adverse events in children taking the product that are consistent with belladonna toxicity.
The tablets and gels have not been evaluated or approved by the FDA for safety or efficacy.
Hyland's issued a response to the recent FDA advisory, calling it a "surprise statement."
"We want you to know that we are confident that Hyland's Baby Teething Tablets remain safe," the statement said.
Hyland's said it tests its products for their belladonna content and uses a "miniscule" amount in its tablets – two trillionths of a milligram in a tablet.
"We have seen rumors that circulate regarding the safety of belladonna … and we know that these warnings can cause fear and worry," the statement said. "This new FDA statement increases the confusion. The safety and effectiveness of Hyland's natural homeopathic medicines is our top priority. … If we ever had reason to be concerned of that safety, we would act immediately."