Excessive drinking costs U.S. $2 per drink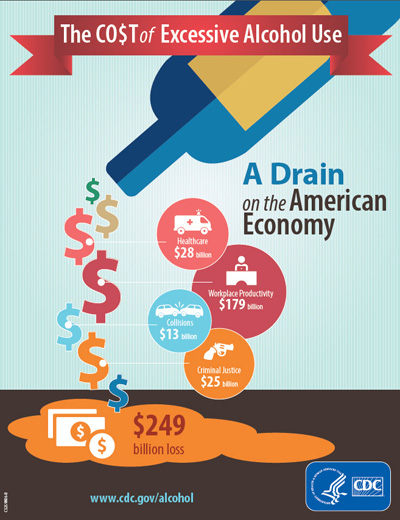 Excessive alcohol consumption cost the U.S. $249 billion in 2010 – the equivalent of $2.05 per drink.
A new study released by the Centers for Disease Control and Prevention found the significant increase from the numbers in 2006: $223.5 billion or $1.90 per drink.
Most of the costs were due to reduced productivity at work, crime and the cost of treating people for health problems related to excessive drinking, according to the CDC.
Binge drinking – five or more drinks on one occasion for men or four or more drinks for women – was responsible for about 77 percent of the costs. More than $100 billion in costs were paid by governments, according to the CDC.
"The increase in the costs of excessive drinking from 2006 to 2010 is concerning, particularly given the severe economic recession that occurred during these years," said Dr. Robert Brewer, head of CDC's Alcohol Program and one of the study's authors, in a news release.
The 2010 cost estimates were based on changes in the occurrence of alcohol-related problems and the cost of paying for them since 2006, according to the CDC.
Excessive drinking is responsible for an average of 88,000 deaths each year and, in 2010, cost states a median of $3.5 billion.
North Dakota had the lowest excessive drinking cost in 2010 ($488 million) and California had the highest ($35 billion).
In Washington, excessive drinking cost $5.8 billion in 2010 – equivalent to $2.23 per drink. Of that, about $2.5 billion (95 cents per drink) was government costs.