Study finds possible link between e-cigarettes, initial tobacco use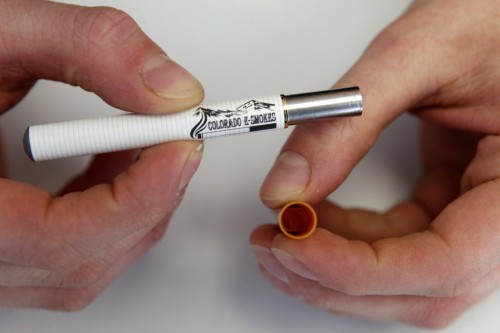 A new study is suggesting what health officials have suspected for years: teens using e-cigarettes are more likely to try tobacco cigarettes.
The study, funded by the National Institutes of Health, found that adolescents who have used electronic cigarettes by the time they start high school are more likely to start smoking traditional cigarettes and other combustible tobacco products within the next year, according to a news release from the National Institutes of Health.
The study compared tobacco use initiation among students who had used e-cigarettes and those who hadn't used e-cigarettes when initially surveyed at the start of ninth grade.
During the first six months, 31 percent of those who had used e-cigarettes started using cigarettes, cigars and hookahs. That's compared with only 8 percent of those who had never used e-cigarettes, according to the NIH.
In the following six months leading up to the start of 10th grade, 25 percent of e-cigarette users had also used combustible tobacco products, compared with 9 percent of nonusers.
"While teen tobacco use has fallen in recent years, this study confirms that we should continue to vigilantly watch teen smoking patterns," said Dr. Nora D. Volkow, director of the National Institute on Drug Abuse, in the news release. "Parents and teens should recognize that although e-cigarettes might not have the same carcinogenic effects of regular cigarettes, they do carry a risk of addiction."
"Recreational e-cigarette use is becoming increasingly popular among teens who have never smoked tobacco. Adolescents who enjoy the experience of inhaling nicotine via e-cigarettes could be more apt to experiment with other nicotine products, including smokeable tobacco," said Adam M. Leventhal, study author, in the news release. "While we cannot conclude that e-cigarette use directly leads to smoking, this research raises concerns that recent increases in youth e-cigarette use could ultimately perpetuate the epidemic of smoking-related illness."