Surgical 'never events' aren't really never events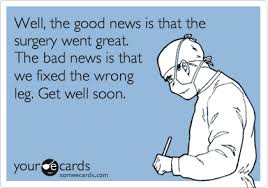 Well, this is horrifying.
A new review of surgical "never events" – serious, preventable surgical events that should never, ever happen – found an estimated one wrong-site surgery per 100,000 procedures and one surgical item left inside the body per 10,000 surgeries.
With 50 million surgical procedures performed in the U.S. each year, that translates to an estimated 500 wrong-site surgeries (think operating on the right leg instead of the left) and 5,000 retained surgical items each year.
The paper, published in the Journal of the American Medical Association, reviewed 138 empirical studies from 2004 through June 30, 2014. The purpose was to examine the incidence and root causes of wrong-site surgery, retained surgical items and surgical fires. (The per-procedure prevalence of surgical fires is not known.)
Wrong-site surgery refers to surgery on the wrong site or the wrong side, the wrong procedure, the wrong implant, or the wrong patient. Retained surgical items are items unintentionally left in a patient after surgery; some events are clinically asymptomatic and discovered only long after the procedure. Surgical fires are fires in the operating room, including on and in the patient.
"The events have potentially devastating consequences for the patient, and health care practitioners and facilities may also experience severe repercussions," the researchers wrote in the paper. "All three are considered preventable (termed never events) and not acceptable risks of surgery."
The most commonly reported cause of wrong-site surgery was communication problems. That includes miscommunications among staff, missing information that should have been available to operating room staff, surgical team members not speaking up when they noticed a procedure targeting the wrong side and a surgeon ignoring team members who questioned the procedure, according to the review.
Other causes of wrong-site surgery include events resulting from misinformation (such as receiving inaccurate information from other departments), misperception (right-left confusions) and policy issues (not following safety procedures, lack of policies).
The review found that surgical sponges were the most commonly reported retained items. The root causes for items being left behind in the patient include poor communication (such as failure to communicate suspicions), incomplete or undocumented counts and patient body mass index.
With surgical fires, the root cause was lack of staff awareness of (and failure to communicate) risks. Electrocautery was the ignition source is most claims and common fuels were endotracheal tubes and drapes or towels.