E-cigarette use tripled among youth in one year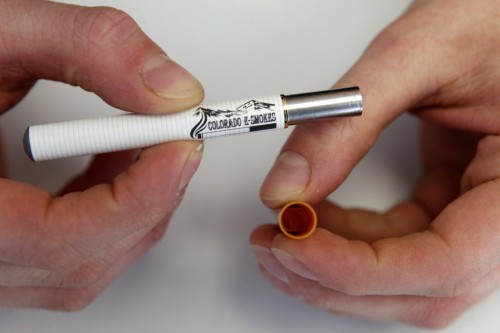 The number of middle and high school students using electronic cigarettes increased dramatically from 2013 to 2014, according to new data from the Centers for Disease Control and Prevention.
The 2014 National Youth Tobacco Survey showed that current e-cigarette use among high school students increased from 4.5 percent in 2013 to 13.4 percent in 2014. Among middle school students, use tripled from 1.1 percent in 2013 to 3.9 percent in 2014.
The surging use rates translate to nearly 2 million high school students using e-cigarettes in 2014 (up from about 660,000 in 2013) and 450,000 middle school students (up from about 120,000 in 2013).
"Current e-cigarette use" is defined as using a device on at least one day in the previous 30 days.
Last month, state officials released the result of the 2014 Healthy Youth Survey, administered every two years. The survey revealed a dramatic increase in the number of Clark County teens using electronic cigarettes.
Nearly a quarter of local high school seniors were current users of e-cigarettes or vape pens in 2014. In 2012, just 5 percent of seniors said they had recently used e-cigarettes (the 2012 survey question did not include vape pens).
"We want parents to know that nicotine is dangerous for kids at any age, whether it's an e-cigarette, hookah, cigarette or cigar," said CDC Director Dr. Tom Frieden, in a news release. "Adolescence is a critical time for brain development. Nicotine exposure at a young age may cause lasting harm to brain development, promote addiction, and lead to sustained tobacco use."
The national report revealed that hookah smoking roughly doubled for middle and high school students from 2013 to 2014, while cigarette use declined among high-schoolers and remained unchanged among middle-schoolers.
In 2014, the products most commonly used by high school students were e-cigarettes (13 percent), hookah (9 percent), cigarettes (9 percent), cigars (8 percent) and smokeless tobacco (6 percent).
"In today's rapidly evolving tobacco marketplace, the surge in youth use of novel products like e-cigarettes forces us to confront the reality that the progress we have made in reducing youth cigarette smoking rates is being threatened," said Mitch Zeller, director of FDA's Center for Tobacco Products. "These staggering increases in such a short time underscore why FDA intends to regulate these additional products to protect public health."