Nestle is ditching artificial flavors, colors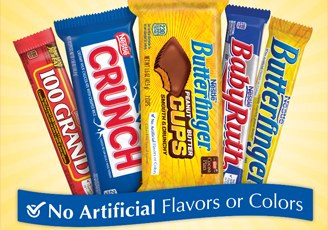 Butterfinger and Crunch bars are about to get a makeover.
Nestle announced this week it will remove artificial flavors and colors from all of its chocolate candy by the end of the year.
That means artificial flavors and Food and Drug Administration-certified colors – such as Red 40 and Yellow 5 – will be removed from more than 250 products and 10 brands, including Butterfinger, Crunch and Baby Ruth.
The new candy bars will be identified by a "No artificial flavors or colors" claim on the packaging and will begin appearing in stores by the middle of the year.
"We know that candy consumers are interested in broader food trends around fewer artificial ingredients," said Doreen Ida, Nestle president. "As we thought about what this means for our candy brands, our first step has been to remove artificial flavors and colors without affecting taste or increasing the price. We're excited to be the first major U.S. candy manufacturer to make this commitment."
Nestle conducted research on its brands that revealed consumers prefer their candy to be free of artificial colors and flavors. Findings from Nielsen's 2014 Global Health & Wellness Survey show more than 60 percent of Americans say no artificial colors or flavors is important to their food purchase decisions.
Nestle will replace artificial flavors and colors with ingredients from natural sources. For example, the crunchy center of the Butterfinger will include annatto, which comes from fruit seeds, instead of Red 40 and Yellow 5.
In Crunch bars, natural vanilla flavor will replace artificial vanilla, according to Nestle.
Going forward, all newly launched chocolate and non-chocolate Nestle candies will be made without artificial flavors or colors.