Are you getting enough sleep?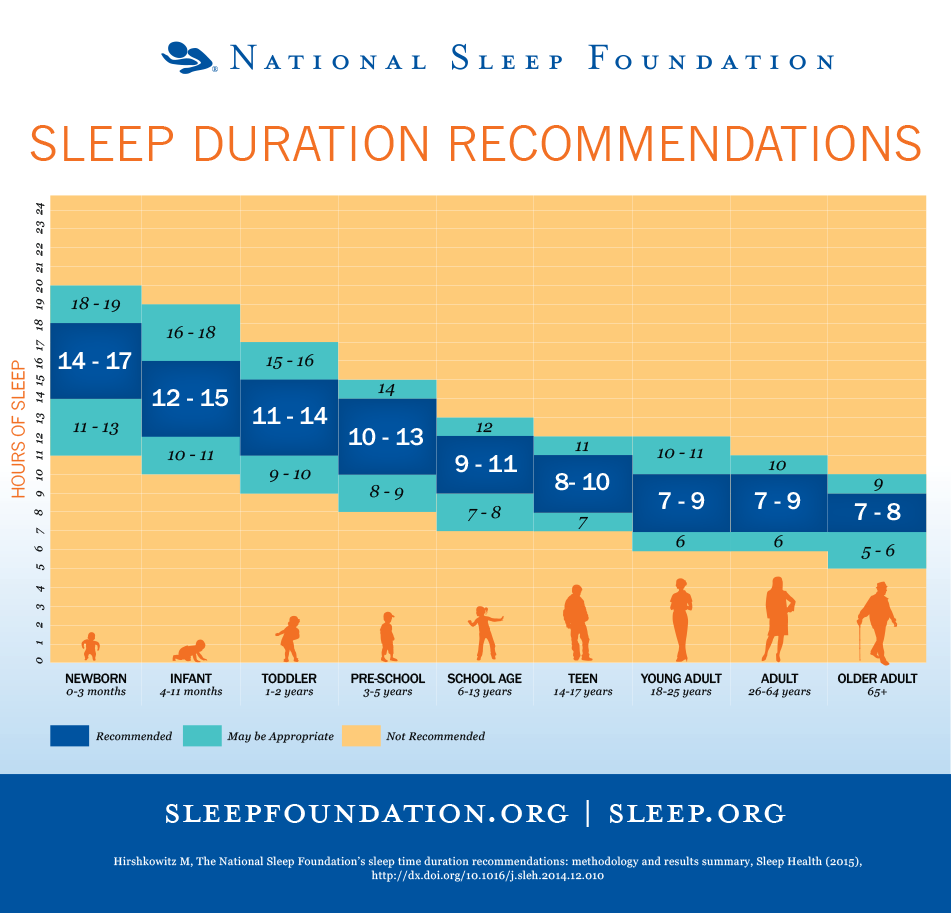 Humans spend up to 1/3 of their lives asleep. But are you getting enough?
While the standard recommendation is eight hours per night, the National Sleep Foundation recently came out with new sleep recommendations for people of all ages.
The foundation tasked an expert panel of 18 scientists and researchers with updating the official recommendations. They reviewed more than 300 current scientific publications and voted on how much sleep is appropriate throughout the lifespan.
The foundation divided age categories to create more specific groups and split the recommendations to include "recommended" and "may be appropriate" to account for the variability from person to person.
Here are the new recommendations:
-Newborn (0-3 months): 14-17 hours recommended (11-19 may be appropriate)
-Infant (4-11 months): 12-15 hours (10-16 may be appropriate)
-Toddler (1-2 years): 11-14 hours (9-16 may be appropriate)
-Preschool (3-5 years): 10-13 hours (8-14 may be appropriate)
-School age (6-13 years): 9-11 hours (7-12 may be appropriate)
-Teen (14-17 years): 8-10 hours (7-11 may be appropriate)
-Young adult (18-25 years): 7-9 hours (6-11 may be appropriate)
-Adult (26-64 years): 7-9 hours (6-10 may be appropriate)
-Older adult (65 and older): 7-8 hours (5-9 may be appropriate)
Still, the foundation cautions, research cannot pinpoint the exact amount of sleep needed by people. Instead, the foundation offers its recommendations as a rule of thumb.
For tips on improving your sleep, visit the foundation website.