Measles cases highest in 20 years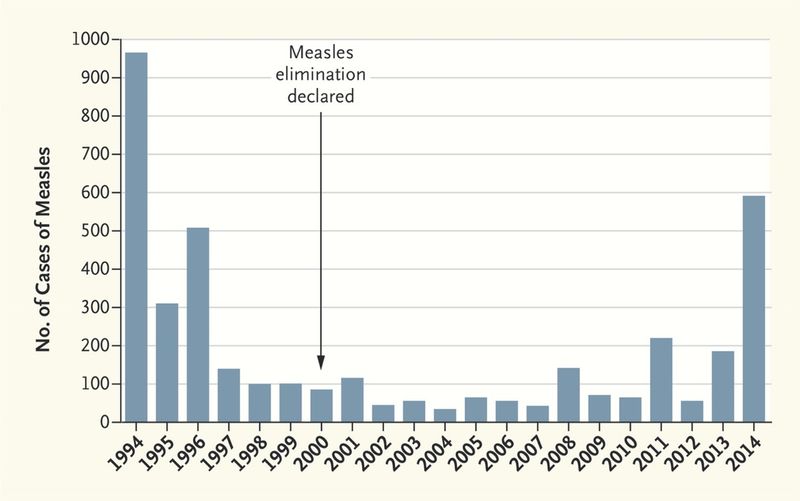 More U.S. measles cases were reported in the first eight months of this year than in any other year in the past two decades.
From Jan. 1 to Aug. 29, the U.S. recorded 592 measles cases – higher than any other year since 1994, when nearly 1,000 measles cases were recorded, according to a recent article in The New England Journal of Medicine.
In 1995, the U.S. had about 300 measles cases, followed by about 500 cases in 1996. Since then, annual measles totals have remained below 200 cases. Most years, fewer than 100 people contracted the measles in the U.S., according to the article.
Measles was declared eliminated in the U.S. in 2000.
There are two main reasons for the resurgence, according to the article authors.
First, there is still "substantial circulation" of the measles virus in other countries. Second, an increasing number of parents are not vaccinating their children.
"… such hesitancy has resulted in an accumulation of unvaccinated populations who can become infected and maintain transmission," according to the article.
Measles is one of the most contagious of vaccine-preventable diseases. The average person with measles is capable of infecting 12 to 18 other people if the contacts were susceptible (not vaccinated), according to the authors.
And should a measles outbreak occur in the U.S., necessary emergency efforts are usually costly.
A 2004 outbreak in Iowa cost an estimated $140,000 for local and state health departments to investigate, contain and treat three patients and their 1,000 contacts, according to the authors.
Seven cases in two Arizona cost about $800,000 – most of that cost coming from furloughing health care workers with no evidence of measles immunity – and that doesn't include expenses incurred by state and local health departments, according to the article.
"To prevent measles from being reestablished as an endemic disease in the United States, we must first do better in vaccinating our at-risk population," the authors wrote.
"We must also overcome vaccine hesitancy. Despite the overwhelming evidence that vaccines — including the measles, mumps, and rubella vaccine — are safe, too many people still believe that greater risk is posed by vaccinating than by not vaccinating."