Magazine declines bikini weight-loss photo
A 28-year-old Illinois woman and healthy lifestyle blogger is making headlines after Shape magazine contacted her for a success story profile.
The magazine wanted to highlight Brooke Birmingham's 172-pound weight loss in an upcoming issue and requested an interview and photos of Birmingham before and after her weight loss.
This is the "after" photo Birmingham submitted: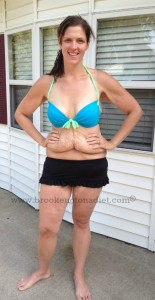 Birmingham talked to the reporter for about half an hour about her weight loss journey and tips she had for others looking to lose weight.
But a couple days later, the reporter emailed Birmingham and asked her to submit a new "after" photo, this time with a shirt on.
Birmingham questioned why she needed to have a shirt on since Shape is known for posting photos of women in bikini tops and sports bras.
"This is my body after massive weight loss and by refusing to show my body (or forcing me to hide it), Shape is giving women a false look at weight loss," she wrote.
The reporter said it was now Shape's policy with those stories to include photos of fully clothed people.
Birmingham responded by declining to be featured in Shape.
"This is the type of body they should have featured because it can give people hope. Hope that they can lose weight healthfully and even if they don't end up with airbrushed abs of steel, they're gorgeous and shouldn't be ashamed of whatever imperfection they believe they have," Birmingham wrote on her blog.
"I spent many years hating and hiding a body I was ashamed of because it wasn't society's ideal of beautiful. Being asked to send a photo of myself with a shirt on made me feel like I again should be ashamed of my body. That since I have the loose skin, I shouldn't be in a bikini," she wrote. "I wasn't willing to do that though."
Shape magazine said the whole situation is the result of a misunderstanding.
"This is a result of a misunderstanding with a freelance writer. This does not represent Shape's editorial values and the comments made about Shape's 'editorial policy' are absolutely untrue. Shape prides itself on empowering and celebrating women like Brooke, and any indication that we would not run the piece with the photo provided was wrong, as we would have been proud to share her inspirational story," the magazine said in a statement to Today.