Poison centers warn of e-cigarette accidents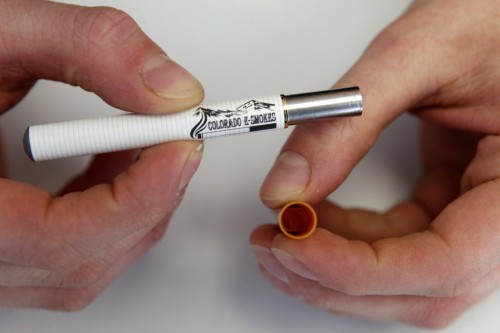 Poison centers are warning parents to keep the liquid nicotine they use in e-cigarettes away from children.
The American Association of Poison Control Centers issued the warning Tuesday after reporting a surge in calls about exposure to e-cigarettes and their nicotine.
The group reported 269 calls in 2011; 459 calls in 2012; 1,414 calls in 2013; and 651 calls through March 24 of this year, according to a USA Today article.
Slightly more than half of the exposures occurred in children younger than 6 years old. Nausea and vomiting were the most significant symptoms but some of the children required emergency room visits, according to the article.
The liquid can cause vomiting and seizures when ingested or absorbed through the skin. One teaspoon in highly concentrated form can kill a child, according to the USA Today article.
E-cigarette users can buy the liquid nicotine in gallon-sized containers and refill their devices. The association recommends adults protect their skin when handling the liquid and keep it locked up and out of reach of children.
A toxicologist for the California Poison Control System told USA Today he's heard cases of adults spilling the solution on their hands when handling the larger replacement containers.
He also said one person there mistook the small cartridge of liquid nicotine for a pill and swallowed it and another mistook it for eye drops.