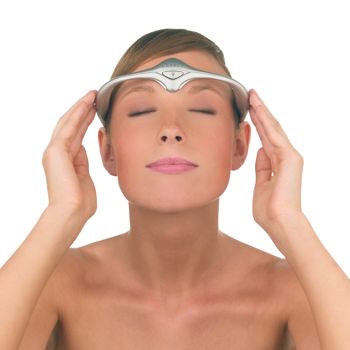 Migraine relief may soon be on its way – from a tiara.
The Food and Drug Administration has approved the first medical device used to prevent migraines. Added bonus: the device – called Cefaly – is shaped like a tiara.
The battery-powered device is worn around the forehead and works by sending an electric current to stimulate the nerves just above the person's eyes. The current creates a tingling sensation, according to a CNN article.
The device is attached to an adhesive electrode that's placed on the forehead. The power button begins a 20-minute treatment session, according to the product description on Costco's Canada website. (The tiara sells for $249.99 there.)
Patients should wear the device no more than 20 minutes per day.
In a 67-person trial, the device reduced chronic migraine attacks by an average of about two migraines per month, according to the CNN article. In addition, about 38 percent of users had at least a 50 percent reduction in the number of migraine episodes, according to the article.
The device did not appear to reduce the severity of attacks, however. But even one less migraine would likely be celebrated by sufferers.
The device is already available in Europe and Canada.