More teens are lighting up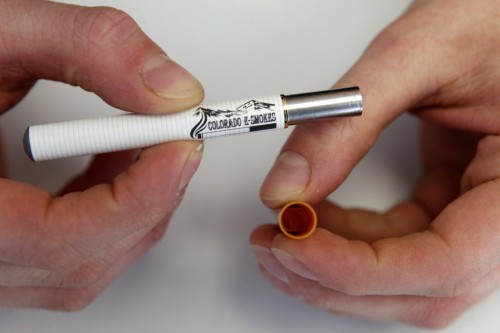 More and more tweens and teens are lighting up. But rather than traditional cigarettes, they're using electronic cigarettes, or e-cigarettes.
The percentage of U.S. middle and high school students who use e-cigarettes more than doubled from 2011 to 2012, according to a new report by the Centers for Disease Control and Prevention.
The findings from the CDC's National Youth Tobacco Survey show the percentage of high-schoolers who reported ever using an e-cigarette rose from 4.7 percent in 2011 to 10 percent in 2012.
Use also doubled among middle school students. Altogether, more than 1.78 million middle and high schools students across the country had tried e-cigarettes in 2012, according to the CDC.
"The increased use of e-cigarettes by teens is deeply troubling," said CDC Director Dr. Tom Frieden in a news release.  "Nicotine is a highly addictive drug.  Many teens who start with e-cigarettes may be condemned to struggling with a lifelong addiction to nicotine and conventional cigarettes."
The study also found that more than 76 percent of students who used e-cigarettes within the past 30 days also smoked traditional cigarettes during the same period.
In addition, 1 in 5 middle school students who reported ever using e-cigarettes say they have never tried conventional cigarettes, according to the CDC.
Health officials worry e-cigarettes will be an entry point to the use of conventional tobacco products.
"About 90 percent of all smokers begin smoking as teenagers," said Dr. Tim McAfee with the CDC. "We must keep our youth from experimenting or using any tobacco product."
E-cigarettes are battery-powered devices that provide doses of nicotine to the user through water vapor. They come in a variety of flavors.
E-cigarettes are not currently regulated by the Food and Drug Administration. The FDA Center for Tobacco Products has announced that it intends to expand its jurisdiction over tobacco products to include e-cigarettes but has not yet issued regulatory rules.