Using Your Leftover Ham Bone
The first holiday weekend of spring has come and gone. Did you enjoy yourselves? I know my family had a wonderful time visiting with friends and family. So, were you left with a bunch of leftover ham? We always have a bit leftover and then there is that wonderful ham bone!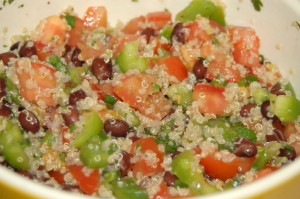 My favorite way to use the leftover ham bone is in a big pot of beans! Dry beans are so easy to cook, and very inexpensive. The toughest part of the whole process is choosing the kind of bean to cook. I usually don't choose just one, my favorite bean dishes have a variety.
Once you've chosen your beans you will need to rinse and then soak them, be careful to pick through your beans before you soak them to remove any stones or bad looking beans. You have two choices on the soaking method. If you plan ahead, you can start your beans soaking in a big pot or bowl of water the night before. I like to soak mine using this method, for about 12 hours.
The second method is a quick soak, perfect for those times when you forgot to get your beans soaking the day before. Simply put your rinsed and sorted beans into a large stock pot with enough water to cover by several inches. Bring this to a boil and allow to boil for 3 minutes. Once you have let them boil, put a lid on them and turn off the burner. Set your timer for one hour and let them soak.
After soaking the beans, simply drain them and place them into the pot or crock pot that you areBlack Bean and Corn Salsa going to cook them in. Cover them with several inches of water and let them cook until tender. This can take a few hours, but if you are using your crock pot, you won't have to "watch" the pot. This is when I add my ham bone and any spices, garlic, onions or carrots that will add extra flavor to my soup or bean dish.
One of our favorite beans to cook this way are pinto or pink beans. We then have them to add to tacos, salads, Mexican food or to have on hand to make bean dip for a simple burrito filling or to just have with chips for a quick snack.
So, don't throw away that ham bone, use it to add extra flavor to a pot of beans. Once your beans are cooked, you can use them just like canned beans. The flavor will be so much better than any you could buy in a can.
Chili, taco salad or your favorite baked beans will have an added level of flavor if you cook the beans with a ham bone. So worth the extra time. Even if you don't have time this week to use that ham bone, they freeze wonderfully and can be used later. Enjoy!