Camas Community Center ghost
Story provided by Vancouver historian and ghost hunter Jeff Davis, from his website at http://www.ghostsandcritters.com/
Date: 18 February 2007
From: Swift, Jenn L
The employees at the Camas Community Center have been swearing for years that it's haunted.
They say they hear footsteps out in the halls when no one is there, they have the usual door and light problems, and on many occasions people have heard the sound of a music box in the basement, although no music box has ever been found and the basement has been completely cleaned out on several occasions.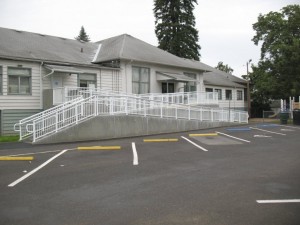 There is some interesting memorabilia in the place, including a piano that once belonged to a local, which was sold and then rediscovered years later on a cruise ship. The old owner was able to reaquire the piano and donated it to the community center. It's definitely a music box they hear though not a piano – but the piano story is interesting.