Science takes on question of Sasquatch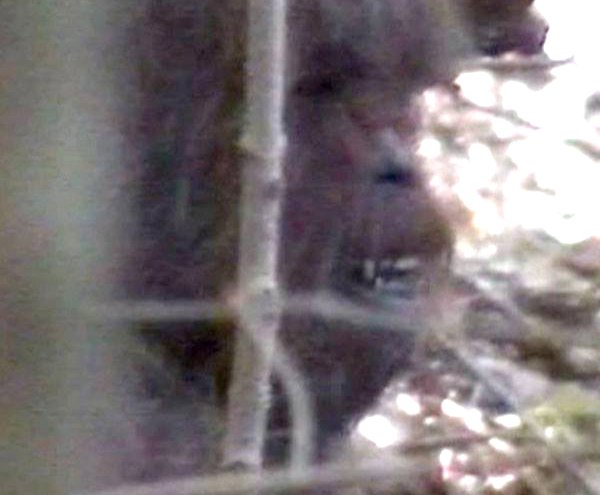 This story ran in The Columbian on Oct. 14, 2013: http://www.columbian.com/news/2013/oct/14/science-takes-on-question-sasquatch/
Science takes on question of Sasquatch
Geneticist says she's proved legend is true
By Sue Vorenberg/The Columbian
You can doubt the science, but there's no doubt that people who claim to have seen a Sasquatch feel stigmatized.
Olympic Peninsula resident Rich Germeau, who was an officer with the La Push Police Department for 14 years, said he doesn't blame folks for finding the stories bizarre. His goal is to prove that the creatures are real, he said.
"I was in my patrol car on my way to the office in July 2000, and one stepped in front of me," Germeau said. "I had to put on my brakes. It was kind of a big eye-opener for me. I watched the stories on TV and I thought there was no possible way that could exist."
Germeau kept silent about his sighting until 2008, when a friend convinced him to form the Olympic Project, a Washington group aimed at finding proof of the creatures.
And over the years, as they got samples of saliva and hair, they sent them to Texas, where researcher Melba Ketchum has led a five-year study to verify and sequence Sasquatch DNA.
Ketchum's group, the Sasquatch Genome Project, released some of its findings and videos Oct. 1.
The Evergreen State loomed large in that study. More than 40 of the 111 of the samples of Sasquatch hair, saliva and other materials the group received came from here, Ketchum said.
"Most of those came from northern Washington state, but they're from all over," Ketchum said. "We also had one from Oregon."
Sasquatch sightings are not uncommon in Clark County. There have been several around Mount St. Helens and the famed "Ape Cave," which actually took its name from a youth group named for the legendary beast.
Germeau said the Olympic Project has gathered information and stories of sightings all over the state, including a few dozen in Clark County.
"There are tons of sightings down there," he said. "They're everywhere. Every county in Washington has some."
Ketchum's group said that it was able to sequence 20 whole and 10 partial mitochondrial genomes and three whole nuclear genomes from the samples. And through those, it determined a genetic code from an unknown species that it claims is Bigfoot.
Ketchum said her group found that unknown component in the nuclear genomes, which trace ancestry back through the fathers.
But her findings have been met with much skepticism in the scientific community.
After looking at data from the study on the group's website, Steve Wagner, an associate professor in the biological sciences department at Central Washington University, said the project doesn't provide enough information to verify its claims.
The DNA study "is incomplete and doesn't use standard methods for analyzing genetic relationships based on phylogeny or hybridization," Wagner said.
The paper also isn't well-organized and doesn't provide access to all the figures noted in the text, he said.
Ketchum said she submitted her full findings to the peer-reviewed scientific journal "Nature" but was rejected. She ended up essentially self-publishing it in the "DeNovo Journal of Science," which has only one paper available, hers, for sale for $30.
Self-publishing is considered a big no-no among most scientists.
Ketchum said she felt she was being treated unfairly by the scientific community, and that she decided to publish in the online journal because it was the only way to get her findings out to the public.
"We were subjected to extreme scientific bias," Ketchum said. "That's why we went completely public like we did."
But Wagner said that Ketchum's group, at the least, did a poor job of compiling its findings and building a good case.
"If I were to peer-review this paper, I would suggest making all their raw data available, rewriting their paper for clarity, and conducting the appropriate phylogenetic and hybrid analyses," he said.
Partially human?
Ketchum, for her part, insists that her findings are real.
She believes the creatures popped up as a branch on the human tree about 13,000 years ago, and that the species appears to have DNA that is partially human and partially something unknown, she said.
"Those mitochondrial DNA types didn't exist until that late in history," Ketchum said. "This is all documented. It's a serious study, with serious technology, and we spent close to half a million dollars on it."
Wagner said he searched a database of DNA information for one of the samples on Ketchum's website and found that "the sequence appears to be 91 percent similar to a panda bear and 89 percent similar to a rhesus macaque."
"If it is a hominin, as they claim, it should be more closely related to humans," Wagner added.
Ketchum is president and director of DNA Diagnostics, Inc, a forensic genetic lab where most of the research was done.
Funding for the study was provided by private donors, she said.
Ketchum said she also sent the samples to 12 independent labs for validation and got confirmation of an unknown configuration in the DNA.
Or opossum?
But Eric Berger, a science columnist with the Houston Chronicle, wrote in a column that he had his own genetics scientist analyze Ketchum's samples with different results.
"In short, I had the DNA material tested by a credible Texas scientist and it showed no evidence of a new species," he wrote in a July 5, 2013, column.
"Alas, I met my geneticist friend this past week and I asked about the Bigfoot DNA. It was, he told me, a mix of opossum and other species. No find of the century," he continued.
Other criticism of the study has noted that one of the reference papers that Ketchum originally cited, "Molecular phylogenetic analyses indicate extensive morphological convergence between the 'yeti' and primates," is a well-known April Fool hoax. Some other papers she cites have been deemed equally questionable.
Ketchum said scientists are afraid to confirm her results for fear of being stigmatized. She's reluctant to send them out to any other labs, she said, but "if the right university comes along with the right experience, I absolutely would (submit the samples)."
Ketchum has a doctor of veterinary medicine degree from Texas A&M and was a visiting scientist at the University of Kentucky Serology Laboratory and DNA Research Laboratory in 1985 and 1987, when she switched fields from veterinary medicine to genetics, according to her résumé.
She got interested in Sasquatch after she appeared as a DNA expert in an episode that looked into the phenomenon on the SyFy Network's show "Destination Truth."
After her appearance, she got hundreds of samples submitted from across the country, she said.
Most of the samples were hair, and she had an expert in that field eliminate those from humans or other known animals. The group also got some samples of blood, tissue and saliva.
According to the frequently asked questions area on her website:
"DNA cannot be faked, and forensic scientists are experts at dealing with genetic material that has been exposed to the elements. Contamination was managed per established routines commonly used in criminal cases. … If it was not Sasquatch, then there is another hairy, hybrid human species living in the wild."
Scientists may take issue with it, but Germeau of the Olympic Project says he thinks Ketchum's work is right on the mark.
"I believe her 100 percent," he said. "I have no reason to think it's invalid."
He said he's found footprints, saliva and hair, and also evidence from a family group of four individuals from across Washington that he sent to Ketchum.
"I feel like really I'm sort of obligated (to share the information) because of my training," he said. "I wanted to vindicate the witnesses. As a witness, all of society is against you, and if you mention it, you get laughed at and ridiculed."
'Never more scared'
True or not, it's very clear that Germeau firmly believes in what he is saying.
Germeau also saw the creatures in 2011, he said, when he was checking on a video system in Mason County.
"It was a habituation site we had abandoned," Germeau said. "I was there setting up a camera and I got snuck up on. It was a diversion. I don't know what they were planning but I've never been more scared in my life."
He said he saw two creatures that day but managed to get away from them. From his research, he says the ones in the Pacific Northwest average around 11 feet tall and weigh up to 1,500 pounds.
With all the sightings, he said it's a mystery why no bodies of the creatures have been found.
"There's a lot more to this story," Germeau said. "These things are highly intelligent. Their goals are not to be detected and not to let themselves be found or seen."
That said, he's also heard tales of people developing relationships with the creatures, he said.
"They trade food for rocks and things," Germeau said. "It sounds crazy, but it's real."
Germeau added that he's not surprised that the study is getting a lot of backlash. He just hopes that one day, stories of the creatures will be taken more seriously.
"I don't know if it will ever be accepted, but it's a reality," Germeau said. "It's not fair, the way we're treated. There's no place to go. You're a square peg in a round hole.
"If you tell people what you've seen, you just get laughed at."