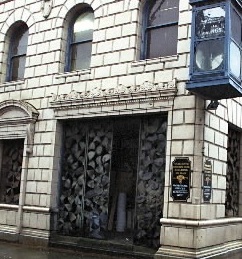 Ghosts at the old First National Bank building: Excerpt from an Oct. 24, 1999 story in The Columbian
By BRETT OPPEGAARD, Columbian staff writer
Local historian Pat Jollota has uncovered dozens of ghost stories in Clark County for her book "The Darkness Next Door." The book, which will be affiliated with the Clark County Historical Museum, covers areas such as Officers Row, west side neighborhoods, east of Interstate 205, North County and downtown Vancouver. Here's on of Jollota's favorite tales regarding downtown:
One of the buildings at the corner of Sixth and Main streets downtown used to be the First National Bank.
At the end of the 19th century, the bank's president, John Brown, was greeted one morning by a state banking examiner. There was a panic in the market at the time, and businesses and banks were failing across the country. The bank examiner said he had to shut down Brown's bank to check its financial stability.
Brown was a respected man in town. His father, Sam Brown, had been sent to Clark County by Abraham Lincoln to be the receiver of public money at the Land Office.
John Brown had built a stellar reputation on his father's coattails, eventually becoming bank president. This potential disgrace for him and his family was too much to bear.
At 5 p.m., after the bank officially was closed, Brown and his bank manager slowly walked home. They reportedly stopped briefly in front of their homes, watching their beloved families through the windows for a moment, then proceeded to an empty field where 39th Street intersects Kauffman Avenue today. There, the bank manager shot Brown, then killed himself in what was ruled a murder-suicide. A couple of days later, the bank examiner found that the business was stable and reopened it.
Apparitions of Brown and the bank manager reportedly have been seen for years on the ground floor in the old bank building, Jollota says, and people there often have an awful feeling that someone is looking over their shoulder as they work. Jollota theorizes that it's Brown and the bank manager still trying to keep track of the staff.