Library Raises Money at First Saturday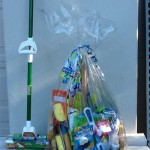 Some lucky person will take home this basket of cleaning supplies after First Saturday in Ridgefield, July 2. Come to the Friends of the Library booth at Overlook Park any time between 9am and 1:30pm to sign up. Tickets are $3.00 each, or three for $5.00. We'll pick a name at 1:30 and contact you if you won. If you are not at the park at that time you can pick up the basket at the library during open hours. All money collected goes to the library building fund – we've now collected over a million dollars toward our goal.
Overlook Park is at Pioneer Street and Main Avenue in Ridgefield.
While you're there, check out the used books we have for sale and also some very unusual hand sewn items by Lorna Earl.