Celebrate Ridgefield's History
Celebrate Ridgefield History with a Pop-Up Museum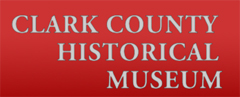 Bring Your Own Objects!
Be Your Own Curator!
Build Your Own Museum!
On July 2 the Clark County Historical Museum will host a temporary pop-up museum at Overlook Park during Ridgefield's First Saturday.
Visitors are invited to bring their own historical objects to display. With help from CCHM staff, they will write labels telling the history of their object. With others they will build a unique and one-time only exhibition celebrating the history of Ridgefield. Visitors will tell their own story with their own objects and words. The exhibit will change throughout the day as people and their objects come and go.