Strange Tones at Old Liberty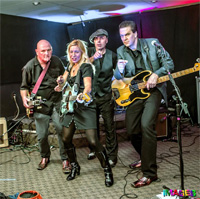 Portland's premier Crime-A-Billy Band Hall of Famer's, The Strange Tones offer blues inspired surf tunes. Accompanied by dance divas, The Volcano Vixens, The Strange Tones will be at the Old Liberty Theater, 113 North Main Avenue in Ridgefield, Saturday, March 19, starting at 7:30pm.
Advance tickets: 887-7260.