Cedar Tree Christian School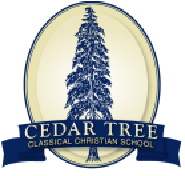 Starting next week, Cedar Tree Classical Christian School in Ridgefield invites interested parents every Tuesday in February to Preview Tuesday at the campus from 9am to 11am.  This is a great opportunity for parents to come observe the only K-12 private school in Ridgefield.
Cedar Tree has 181 students and is located at 20601 NE 29th Avenue–fifteen beautiful acres in Ridgefield near the fairgrounds. You can learn more about the school at www.cedartreeschool.org.