4th of July at the Sportsman's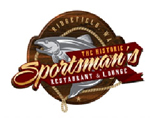 The Sportsman's Restaurant and Lounge in Ridgefield is celebrating the Fourth of July with the hometown tradition of a breakfast buffet as well as a BBQ buffet.  The breakfast buffet will be served from 7:30 am until 11:30 am with scrambled eggs, home fried potatoes, biscuits & gravy, French toast with syrup, hickory smoked bacon and plump link sausage, mixed fresh fruit, assorted pastries and choice of coffee, tea, milk or juice. Adults/13.99, with champagne or mimosas: $18.99, Kids under 12/$9.99. There will be a few a la carte options available.
Following the breakfast buffet, the Beer Garden opens and the Fourth of July BBQ buffet featuring baked steelhead, BBQ chicken quarters, BBQ pulled pork, grilled brats, baked beans, potato and Caesar salads, rolls and butter.  Adults/$15.99,  Kids under 12/$9.99.
There are also ala Carte baskets offered:
BBQ Pulled Pork Sandwich – $9.99
1/2 lb certified Angus beef cheeseburger $9.99
3 piece fish & chips $10.99
All baskets are served with Golden Krunch fries.
They will also be offering an array of appetizers: fresh fried tortilla chips and salsa, golden krunch fries, mozzarella sticks with marinara sauce and their famous hot spinach/artichoke dip with tortilla chips.  There's also a shortened version of their kids' menu: mini corn dogs, cheeseburger and the two piece fish & chips.
The Sportsman's is along the parade route at 121 North Main Avenue in Ridgefield