Ridgefield Garden Club Sale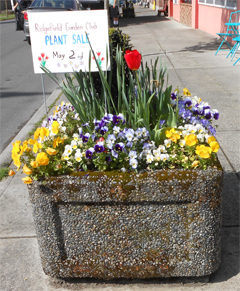 The planter boxes in downtown Ridgefield are especially beautiful this year. Thanks to the Ridgefield Garden Club members who plant and maintain them.
The annual Garden Club sale will be only day only, Saturday, May 2. They will have 12" hanging baskets of fuschias, Million Bells and zonal geraniums, 14" premium mixed planters; the popular 18" Grecian urns; 3 and 6 gallon mixed planters; and window box planters. There will be flats of European geraniums and luscious hanging ferns for sale, plus many flowers and shrubs grown by members as well as one-of-a-kind garden decor. Prices are very reasonable, so get there early for the best selection.
The sale is held in the maintenance building at 3rd and Pioneer Street in downtown Ridgefield. All proceeds from the sale go to benefit Ridgefield activities.