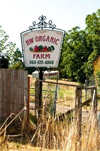 Northwest Organic Farms is a family-run organic farm located in the lush area of Ridgefield, WA. It is a short 10 minute drive off I-5 to our farm. The farm is run by owners/farmers Greg, Joyce, and Ben. We have been farming since 2001.
Farmers Greg and Ben have been busy getting ready for this upcoming 2015 CSA season. Heirloom seeds are being planted, fruit trees are being pruned, and the green houses are growing crops that go to local businesses throughout the area during all seasons.  The happy and free-ranging chickens are laying their eggs. They are for sale on a self-service basis at $4 a dozen. Up our driveway in front of the first house on the right in the mini fridge is where you will find them.  Our ducks have started laying as well, but we do need a phone call to hold those for you. They are $5 a dozen.
We are now open for the 2015 season for taking CSA applications. CSA stands for Community Supported Agriculture and is a way to buy fresh fruits and vegetables directly from the farmer in your local community. Supporting local agriculture is a way to support your local business community, your neighbors, and keep your food dollars in the local economy.
Our CSA runs for 20 weeks. We have two kinds of shares. The full share basket feeds 5-6 people and goes for $598.  Our half share baskets feed 2-3 people and go for $325. We take a deposit of $100 to save your share.  Full amount must be received prior to May 1st.  We accept WIC, EBT, and Senior Coupons.
We sell our produce from our farm stand and at the Salmon Creek farmers market. Examples are our organic raspberries by the flat, canning tomatoes, etc.
Currently, we are taking orders for our heirloom tomato plants $5 for gallon plants and $8 for the grafted heirloom tomatoes.
Follow us on our FB book page. It will be updated with what we have for sale at our farm, as well as what's in our CSA bags, recipes, events, and so much more!
Northwest Organic Farms is located at 17713 NW 61st Ave. Ridgefield.