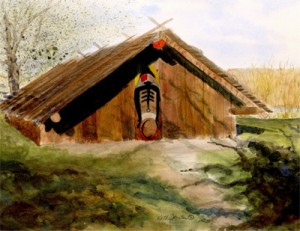 In 2015, the Plankhouse at the Ridgefield National Wildlife Refuge turns 10! This is a big milestone for the program, and we want to celebrate it with all of you who have helped make the Plankhouse what it is today.
We will be hosting an anniversary celebration on March 29th. We are tracking down names and contact information for people who have been a part of the program and those involved in building it, especially in the early days. We are also planning on honoring people who have been involved in the program who are no longer with us, so if you know of someone who has moved on, please let Program Coordinator Sarah Hill know.
If you have been involved in the program, or know someone who has, please send their name and contact info to the Plankhouse Coordinator, Sarah Hill, at sarah_hill@fws.gov.
We are also collecting stories, photos, and memories of the Plankhouse over the years, so if you have something special to share, you can send that to Sarah as well. 
Thank you, everyone, for making the last ten years so successful—and here's to the next ten!