Ridgefield Main Street Launches Scrip Program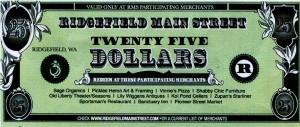 You can win a $25 gift certificate from participating stores in the downtown Ridgefield area!
"Like" the Ridgefield Main Street Facebook page, and for every 100 'likes' one name will be chosen to win scrip worth $25. The script is good for up to $25 in merchandise – if you spend more, you will be responsible for the balance. If you spend less, no change will be given.
Enter now! You will be notified if you win.
A promotion is in the works for when the page has 1000 'likes' – stay turned to find out more.