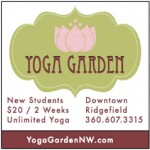 Yoga Garden in Ridgefield is planning an afternoon where you can let go of ALL the "I should's" and "have to's" and experience a whole new holiday season! Be the first one on your gift list with an experience focused on YOU!
It's Saturday, November 1st, from 4 – 6 pm. Yoga Garden Ridgefield is at 208 Pioneer Street, #B, above the hardware store. Reservations are suggested. Tickets at the studio are $10 or can be purchased on-line (under events page at www.yogagardenNW.com) for $11. Tickets at the door will be $15.
The Line Up:
Susan Glavin, author of "The F–k It Manifesto" a women's kick ass guide to liberation (men too!) co-creator of Be the Gift, creator of Soul Circles and Soul Juice. Susan is and Inspired human, speaker and communicator of the divine realms. She is dedicated to supporting and inspiring the highest and greatest expression of who we truly are.
Dr. Pamela Jeanne's medical experience spans 50 years. Her clinical practice began after graduating from National College of Natural Medicine with honors in clinical medicine in 1990. She has taught natural medicine courses locally and internationally. Her book Healing Matters published in 2012 addresses the balance women innately know.

Mary Jadwisiak has been the Spokesperson for Hope and Recovery for 20 years. She is described as passionate, vibrant, and funny with extensive expertise regarding mental health recovery issues. Mary works with international corporations, state governments, private agencies and advocacy organizations bringing a keen understanding about what is necessary for personal transformation through hope.

Laurie Lanza's experience in the beauty and wellness industry spans over 13 years and includes working for several spas and spa management. Working in spas helped her focus in on what clients want in a spa experience. Laurie can help you determine which product lines perform the best. Her experience with massage therapy spans from relaxing and restorative, to medical, prenatal, stone, deep tissue and cupping.