Support the Junior Livestock Auction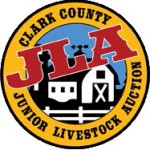 The Junior Livestock Auction will be held at the Clark County Fairgrounds on Saturday, August 9th at 11 a.m.  It's a great way for folks to fill their freezers up for the winter and at the same time support our local Ridgefield 4-H and FFA kids!
These young adults have spent countless hours feeding, taming, and training their chosen animals, getting them ready to show at the fair and sell at the annual Market Sale.  The quality of the meat is unsurpassed as they have been feeding their animals only the best feeds.
The Ridgefield Lions Club has been supporting our 'kids' for decades at this event and if anyone is interested I encourage them to contact Bruce Wiseman for more information.  In past years, Lions Club members have purchased animals for members and/or friends of members.  Cutting/wrapping is the responsibility of the buyer(s).
Lion Bruce Wiseman, 360-887-4582 home; 360-600-5062 cell.
Note from Kathy – the livestock auction is fun to attend. It's full of action as our young people show their animals. They've worked hard to bring them to the Fair, and it shows.