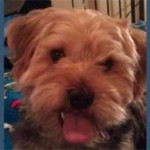 The chain-reaction collision of cars and semi-trucks on the freeway last week killed Matthew Scott, and his dog Daisy ran away in the confusion.
The animal rescue group Second Chance Dogs from the Seattle-area got in touch with the Scott family and decided to come down Wednesday to help find the dog.
"We've been in contact with the family. Everyone is so devastated by this whole tragic situation, so absolutely we'll stay in contact," said Cindy Koch with Second Chance Dogs.
They've printed 500 posters and have been talking to truck drivers, just trying to bring Daisy home.
"It would certainly be a blessing for this family to have their little dog back. This dog is going to mean so much to them as a memory of their family member. It's really important," said Koch.
If you've seen the dog call JD at: (360) 903-1775.