Gary Stroutsos at Old Liberty Theater in Ridgefield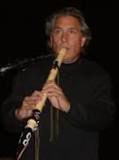 Gary Stroutsos, international world flute recording artist and cultural storyteller, returns to the Old Liberty Theater Saturday, November 16, 2013 at 7:30 pm. His special guests are David Revelli, world percussionist who has performed with Sheryl Crow and Jewel, and Gary Rollins, master acoustic folk guitarist and vocalist.
Gary Stroutsos will be presenting two unique sets of music from his newest recording "In Stone Circles," the music of Jethro Tull's Ian Anderson & Other Joys and his WK Kellogg Foundation American Indian music recording "Remembering the Songs," which is music from the Salish, Navajo & Zuni Indians. Gary will also be performing a Paul Horn tribute in honor of the master Jazz flutist and sound traveler. www.garystroutsos.com
Special guest David Revelli will be performing sounds from "Pueblo", a suite of music recorded from the "Shadows of Time" release featuring replicated southwest desert rim flutes. He uses all clay-made percussive instruments.
For tickets, call 360-887-7260. The show begins at 7:30 and the doors open at 6:45. The Old Liberty Theater is at 115 North Main Avenue in Ridgefield, Washington.