Paul Lucas Relocates in Ridgefield
I spent 2 ½ hours recently, talking to Paul Joseph Lucas about his life, his art and his relocation in Ridgefield. This popular artist was forced out of his previous location because of the future expansion of the road into Battle Ground, and he's now at 6400 NW 179th Street. He's renovated the existing building into a wonderful gallery displaying his work.
Paul has always been a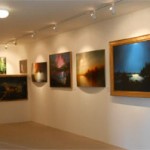 n artist, starting when he was five years old and won an art competition through KOIN. He is a man of many talents. He has a slew of trophies from building model cars and a whole wall of memorabilia in his living area. He lived on the Oregon Coast where he had solo shows of his art work, and moved back to Ridgefield in 2008.
Paul sells his artwork through the Portland Art Museum and through his own gallery here in Ridgefield. His oil paintings on canvas and stainless steel are large and evocative and his sense of light and color is magic. The large open space where his paintings are exhibited is well lit and the work shows up very well.
A defining moment in Paul's life was his visit to a vortex, which he originally debunked. He was physically affected by the forces he experienced and returned several years later to translate his feelings about the area into paintings, and his work from then on was affected by this profound experience.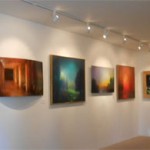 Paul says he's 'living his dream.' He teaches a select group of students, and is pleased that their work is starting to sell. Paul is in the process of producing a documentary on theoretical work in quantum physics, and feels he's on a journey of exploration, trying to find out 'what makes us tick?'
I invite you to visit Paul's gallery and talk with him yourself. Hours are Friday through Sunday from 11 to 4, or by appointment. Address is 6400 NW 279th Street, Ridgefield. For more information, call Paul at 503-912-0386.