Ken Ames to Speak in Ridgefield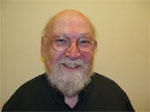 At our last event in July, Portland State University Professor Scott Burns gave a stunning presentation on the Missoula floods and the events that have shaped much of the landscape in eastern Washington and the Portland basin. The effects of the floods are particularly pronounced in Clark County and at the Ridgefield National Wildlife Refuge. The resulting landscape of the Lower Columbia River from the Columbia Gorge to the coast was gradually inhabited over the intervening 10,000 plus years, and at the time of the first European contact in the late 1700s and early 1900s is thought to have been one of the most populated areas of the North American continent.
The next chapter in our story begins with Professor Emeritus and esteemed scholar Ken Ames telling the story of human habitation in the area of the Ridgefield National Wildlife Refuge. He will pick up where Scott Burns left off; at the end of the last ice age, and his talk will take us from there through the time of the Cathlapotle village on the Refuge as described in the journals of Lewis & Clark and the Corps of Discovery and in subsequent studies led by Dr. Ames.
Many have experienced Cathlapotle through trips led by Dr. Ames over the years. His presentation on Thursday, September 19th, at the Old Liberty Theater, 113 North Main Avenue in downtown Ridgefield, will tell a broader story of the rich archeological history of this area. Please plan to attend this once-in-a-lifetime opportunity to hear a truly unique and compelling presentation on the first human beings to set foot on this part of our planet.
This series of three presentations is sponsored by Columbia Credit Union, and all proceeds go to the Friends of the Ridgefield National Wildlife Refuge and its education and habitat enhancement programs. Doors open at 6:30 to give you time to buy a snack at Seasons, and the presentation starts at 7:15. Cost is $10 for Friends members and $15 for non-members.