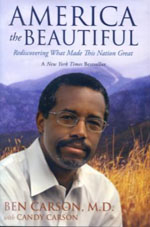 "It is my strong belief that if you can just get children to believe in themselves and understand that when they achieve academically, they are the ultimate beneficiaries, they will do what is necessary to become a successful contributor rather than a drain on society." – Dr. Ben Carson, "American the Beautiful."
I highly recommend Dr. Carson's book, America the Beautiful. Raised in inner-city Detroit by a single mother who could not read or write, but who had a strong belief that education was the way to get ahead, he and his brother spent long hours at the library. Because his readings opened up the world to him, he managed to go from failing grades to the top of his class at Yale and the University of Michigan Medical School. At age 33 he became director of pediatric neurosurgery at John Hopkins Hospital in Baltimore.
The book is an easy read and contains the author's belief in America, and lists in detail ideas on how our society can become even better.