Ribbon Cutting at Main Street Studio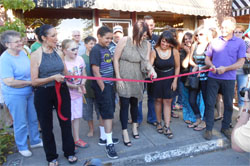 A large crowd of friends and neighbors gathered to welcome hair stylist Lea Graves and and massage therapist Devon Ratley to their new Main Street Studio last night. Jeff Stay, President of the Ridgefield Business Association officially welcomed them on behalf of the Association and the city. Merrilee Lee, Association member and Terry Hurd, vice president, held the ribbon while the ladies cut it.
The store is now open for business. Lea may be contacted at 360-521-7221 for hair treatments, and Devon's number is 360-635-3588 for massage. The store is at 112 North Main Avenue in downtown Ridgefield.