Last Chance to See Current Exhibit at Alcove Art Gallery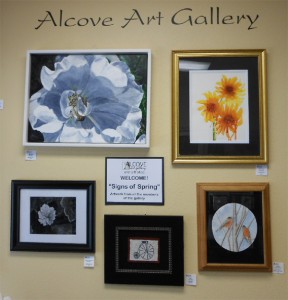 'Signs of Spring', the current exhibit at Alcove Art Gallery & Gift Shop, is on display for two more days – next week Beth Kitselman's new show will be hung.
Stop by today – I'll be working at the shop – and see our current show. Alcove Art Gallery and Gift Shop is THE place to go in Ridgefield for original artwork, jewelry, stained glass, prints, cards and other unique items.
Alcove is at 328 Pioneer Street right in downtown Ridgefield, and is open from 10 to five, Wednesday through Saturday.