Breakfast to Support RHS Band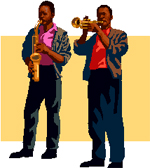 Ridgefield Music Department Association is organizing a breakfast to help cap off the school year, giving thanks to the parents and community members for their constant support of the RHS Band.  Also, there are over 20 graduating seniors in the band this year and they will be honored for their contributions. The funds will be used towards purchasing formal uniforms (tuxedos and dresses) for the 120+ band members.  Also, funds will be used to purchase higher dollar instruments such as tubas and baritone saxophones.
The breakfast will be June 1st from 8 to 11a, at the Ridgefield High School Commons. Tickets are $5 per person or $15 per family and may be purchased through the band department.  Tickets will also be available at the door.
The Ridgefield Lions Club will provide and prepare the food. Donna Carlson has been the main contact for the RMDA with the Ridgefield Lions Club.  The band students will be serving and bussing the tables.
Band students will perform during the breakfast.  This will be another opportunity for the students to show case their talents as soloists and group performers.