t.A.T.u. Ironic? or a Statment?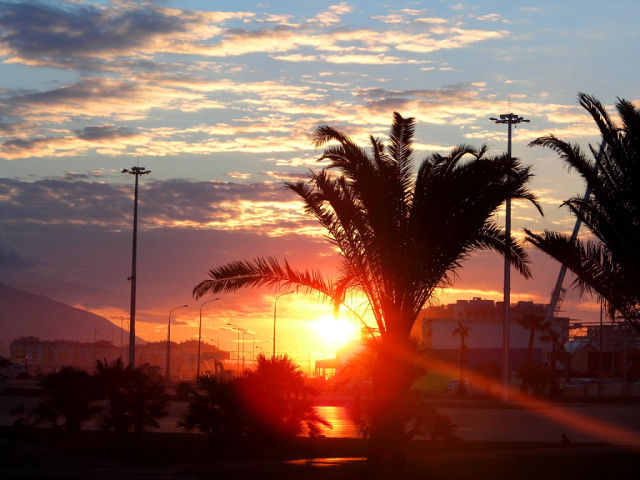 I don't know if many of you noticed last night that the Russian delegation came out to the sounds of t.A.T.u, a Russian music group known around the world for their performances, which openly support gay rights. I don't know what to make of it. Was it ironic? Was it a statement? Did anyone even notice? Personally, I was proud that t.A.T.u was selected to perform at the Olympics. Simply because, they rock!
As I mentioned in my other blogs, Sochi is an amazing melting pot of cultures. Maria Sharapova took us around the city last night. For me it was an amazing opportunity to tell my American-born husband about Sochi. Our sea port, circus venue, park riviera – I remember all of those clearly. The park riviera was a tourist destination. Beautiful and green, it offered everything from amusement features, to a summer palace, a concert hall and a Ferris wheel my friends and I braved on summer nights. The park is in the heart of the city next to the largest tourist beach and close to movie theaters and shopping. As kids, we would go to riviera to play tennis, to people watch and to have fun.
Were you surprised to see palm trees in Sochi? The city's landscaping including many types of palm trees. During the winter months, palm trees were covered with what appeared to be plastic, to keep them warm. I should add that our winters were mild and just like in Vancouver, our schools would close at any sign of snow.
It did rain a lot in Sochi, sometimes nine months out of 12. Again, much like Vancouver, our rain fall was our weather curse, not snow and blizzards.
So, what did you make of the opening ceremony last night? Personally, I loved it. There is a sense of pride of course for me, on so many levels, some unconscious.
My husband asked if I am going to cheer for Russians or Americans. I quickly responded "both."
"Why both?" he asked. "You are an American."
He is correct. I moved to US in 1991, became an American citizen shortly after.
I am also Russian. Born and raised in Soviet Russia, I am who I am today because I lived there and lived through what an announcer yesterday during the Opening Ceremony referred to as the biggest "social experiment" in our history.
Experiment or not, it was a social experience that shaped not only entire generations of Russian citizens, it shaped our world history.
The same announcer referred to the games as "Putin games."
What a jerk. These games are our games – the people's games.
It's a way for us to recognize our collective history, celebrate our humanity, our sports, our way of changing the world. I hope you enjoy the games and look beyond the propaganda and political games. I am.