Streamline your style by color-coordinating your closet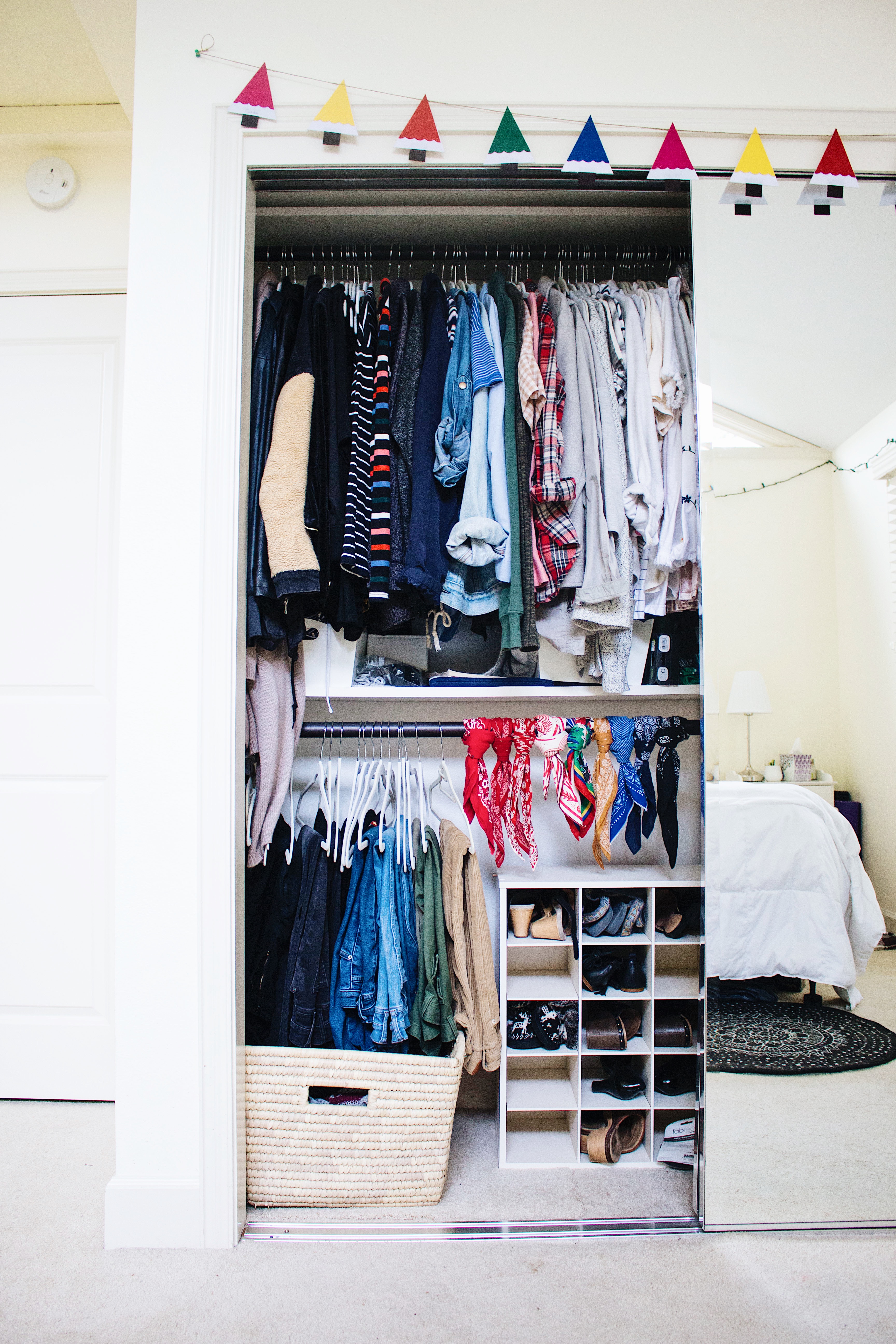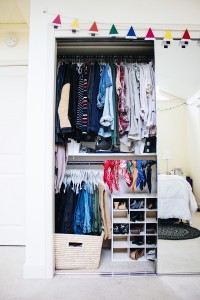 If you peek into my closet, you'll see my clothes all fall into a limited color palette. Everything looks like it goes together, and that isn't an accident. 
For several years now, I've done my best to visually streamline my closet. Not only does it make it look neat and tidy when I slide my door aside to pick out an outfit; creating a cohesive color scheme has a lot of other benefits.
First of all, it expands your options if most of your clothing items don't clash. It also allows you to purchase more interesting pieces. Patterns, metallics and other fun details become a lot more wearable if you have the right colors to pair them with. Traveling is also simpler because you'll be able mix, match and rewear a few items that all go together. 
I would also go out on a limb to say that having a color cohesive wardrobe can reduce impulse purchases. Knowing what colors you like, what hues look good on you, and what shades will match with your current clothing items can steer you away from that crazy fluorescent pink miniskirt that is destined to hang in the back of your closet with the tags still on. Once you discover your preferences, you're more likely to stick to them.
The method
Now the question is: What's the best way to get to this point without shelling out lots of money? 
The most important thing to remember if you're aiming to streamline your closet colors is to be aware that it will happen over time, not immediately. There's no need to spend your whole paycheck or throw out large portions of your current wardrobe. It took me several months of (normal levels) of shopping before I started to notice cohesiveness emerging in the items I purchased. 
The first step is to take a look at your current clothing. Are there any pieces you own that don't look good on you? If yellow makes you look sallow or purple just isn't your thing, get rid of it. My philosophy is that there's no reason to keep clothing you don't like unless you need it for utility or professional purposes.  
Secondly, the next time you shop, start building up a base of neutral colored pieces. When I was a teenager, I thought neutrals were boring. Now, I love them for their flexibility. If you're someone who starts snoring at the thought of black or beige, think of neutrals as a way to try out different shapes, materials and details. For example, a black shirt with bell sleeves and a ruffled collar is far from dull. In addition to navy, black, gray, brown and white, also consider what I call secondary neutrals, which include colors like olive, camel, and cream. They are versatile and are great if you fancy warmer hues. 
Next, based off your personal preferences and what is already in your closet, determine what non-neutral colors you like to wear. Personally, I tend to favor toned-down primary colors, and gravitate toward red, blue, yellow and green. However, if you're like my mom, who likes jewel tones, your closet might be filled with violet, emerald and turquoise. I would choose around three or four colors, each of which look good with your complexion and make you feel great. 
Lastly, think about accent colors. For me, red is the perfect pop for almost any outfit. For example, I have a great tan raincoat that has red lining and drawstrings for the hood, which make it look more preppy and adds some interest. I also own no less than three red bandanas that I pair with everything. You can utilize these colors in any kinds of accessories like purses, hats, scarves, jewelry and shoes. 
Whew! That might seem like a lot, but don't freak out. The most important thing is don't expect everything to come together immediately. Keep your eyes peeled when shopping, and notice what you gravitate toward. Also, this is by no means a hard-and-fast method. If you see a shirt that you love that is out of your chosen color range, that's fine! This approach aims to give you more options and streamline your style, not to stifle your creativity. 
Already have a color-coordinated closet? Email me a photo with your name and neighborhood and I'll feature it for inspiration at the bottom of next week's online post!