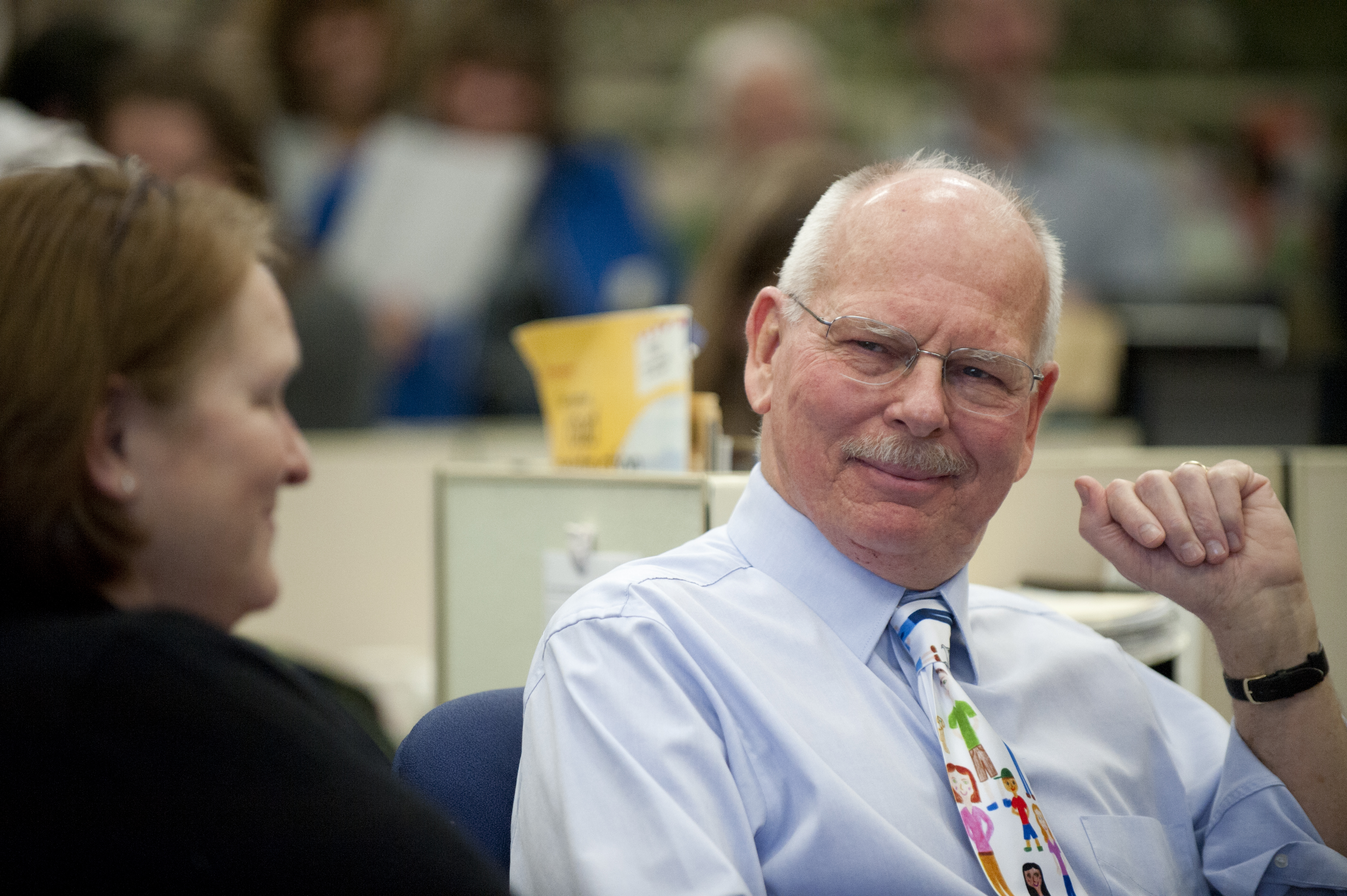 Columbian Assistant Metro Editor Dave Kern retired on Thursday after spending 33 years at the paper and about 40 years in the news business.
As you might remember from our farewell to John Branton post, Dave would send off longtime employees with a parody song. That meant someone else would need to step up to the plate to honor Dave. That someone was Mark Bowder who rewrote the lyrics to Don McLean's "American Pie." Bowder performed the song along with staffers Scott Hewitt and Stover Harger at our 3 p.m. farewell to King Kern.
Dave is one of those guys who can always put a smile on your face. Let's just say this place wont be the same without him.
http://youtu.be/2DGcnZMFXg8
For those of you who are interested, here's the full words to that parody tribute song:
Mr. Editor Guy  — (to the tune "American Pie")

A long, long time ago
I can still remember how his stories used to make me smile
And I knew if I had my chance
That I could get those words to dance
And maybe I'd be published for a while

But January makes me shiver
With every tweet that I deliver
Bad news in the news race
We're losing Colonel Kern's face

I can't remember if I sighed
When I read his email of good bye
But something touched me deep inside
The day that Dave retired

[Chorus]
So bye-bye Mr. Editor Guy
Lived on deadline 40 years now, but he's still feelin' spry
No more scanner, see ya Bat Phone, he won' t even mind
When he's telling all those night shifts goodbye
Telling all those night shifts good bye.

[Verse 1]
Did you read the wire today
And do you have faith in what they say
If the paper tells you so?
Now did you believe in Rock-A-Roos
Can music mix in with the news
And can it teach us how to get a-long?

Well, I know that you're a newsie guy
But you play and sing up to the sky
You write and sing the songs
If only Dylan lasted so long!

I was a fledgling writer, yes siree
And I needed someone to help guide me
But I didn't think that I would see
The day that Dave retired

[Chorus]

So bye-bye Mr. Editor Guy
Lived on deadline 40 years now, but he's still feelin' spry
No more scanner, see ya Bat Phone, he won't even mind
When he's telling all those night shifts goodbye
Telling all those night shifts good bye.

[Verse 2]
Now in no time we'll  be on our own
As Dave becomes our rollin' stone
But that's not how it used to be
When the Colonel wrote for the Daily C
With skills he polished in Al-bany
And a heart that beat for you and me

Oh, and while the Gregg was looking down
The Colonel stole his newsroom crown
The meeting was adjourned
No verdict was returned

And while Saxo read a book on Quark
And folks took selfies in the park
And we're left walking in the dark
The day that Dave retired

[Chorus]
So bye-bye Mr. Editor Guy
Lived on deadline 40 years now, but he's still feelin' spry
No more scanner, see ya Bat Phone, he won't even mind
When he's telling all those night shifts goodbye
Telling all those night shifts good bye.

[Verse 3]
Oh, and there we are all in one space
A newsroom heart just stopped in place
With no choice but to start again
So come on, Dave, the scanner, Dave the phone
Dave don't stray, cuz you know it's home
And truckies are the devil's only friend

Oh, and as I watched him at his desk
His hands moved on without a rest
No deadline born of hell
Could break the Colonel's will

And as he worked on late into the night
To write the sacrificial brite
I saw Dave was laughing with delight
The day that he retired

He was singing bye-bye Mr. Editor Guy
Lived on deadline 40 years now, but he's still feelin' spry
No more scanner, see ya Bat Phone, he won't even mind
When he's telling all those night shifts goodbye
Telling all those night shifts good bye.

[Outro]
I met a gal who wrote the news
And I asked if she would sing the blues
But she just smiled and turned away
I went down to the desk once more
Where he'd written prose years before
But the glue pots were long since put away

And in the streets the squirrels schemed
Politicians lied and the hopeful dreamed
But not a word was spoken
And deadline was not broken

And the three men I admire most
The writer, coach and newsroom host
They're heading to Napali Coast
Right after Dave retires

And they were singing bye-bye Mr. Editor Guy
Lived on deadline 40 years now, but he's still feelin' spry
No more scanner, see ya Bat Phone, he won't even mind
When he's telling all those night shifts goodbye
Telling all those night shifts good bye.

[Final Chorus]
They were singing bye-bye Mr. Editor Guy
Lived on deadline 40 years now, but he's still feelin' spry
No more scanner, see ya Bat Phone, he won' t even mind
Telling all those night shifts good bye.

-With apologies to Don McLean