Another look at voter turnout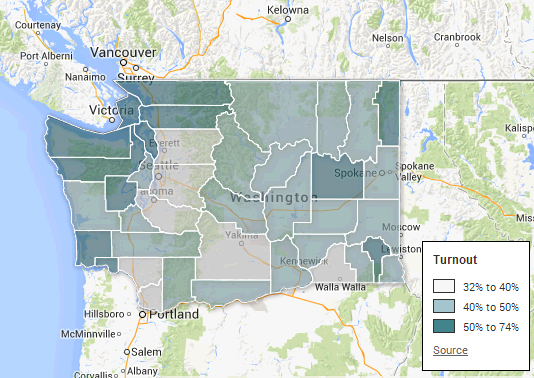 There's still a few thousand ballots to be counted in the Nov. 5 election but the outcomes in the big local races aren't expected to change much, nor is the voter turnout.
This means Clark County is likely to remain near the bottom of the list in voter turnout for the state's 39 counties. Only Walla Walla County's voters shunned the polls more than we did, 32% compared to Clark's 37%. Clark County Auditor Greg Kimsey told us in a recent story this didn't surprise him because the county has lagged in the past and this year's election wasn't a mid-term or presidential election year, which traditionally bring out more voters.
Interestingly, the counties that seemed to do the worst in the last election also are some of the more heavily populated in the state. Of the larger population centers, only Spokane County rose to the next level and even then it just barely made the cut. Are we just "too busy" in the more urban regions or is something else contributing to the lack of turnout? What do you think?