Heathen Brewing wins Battle of the Brews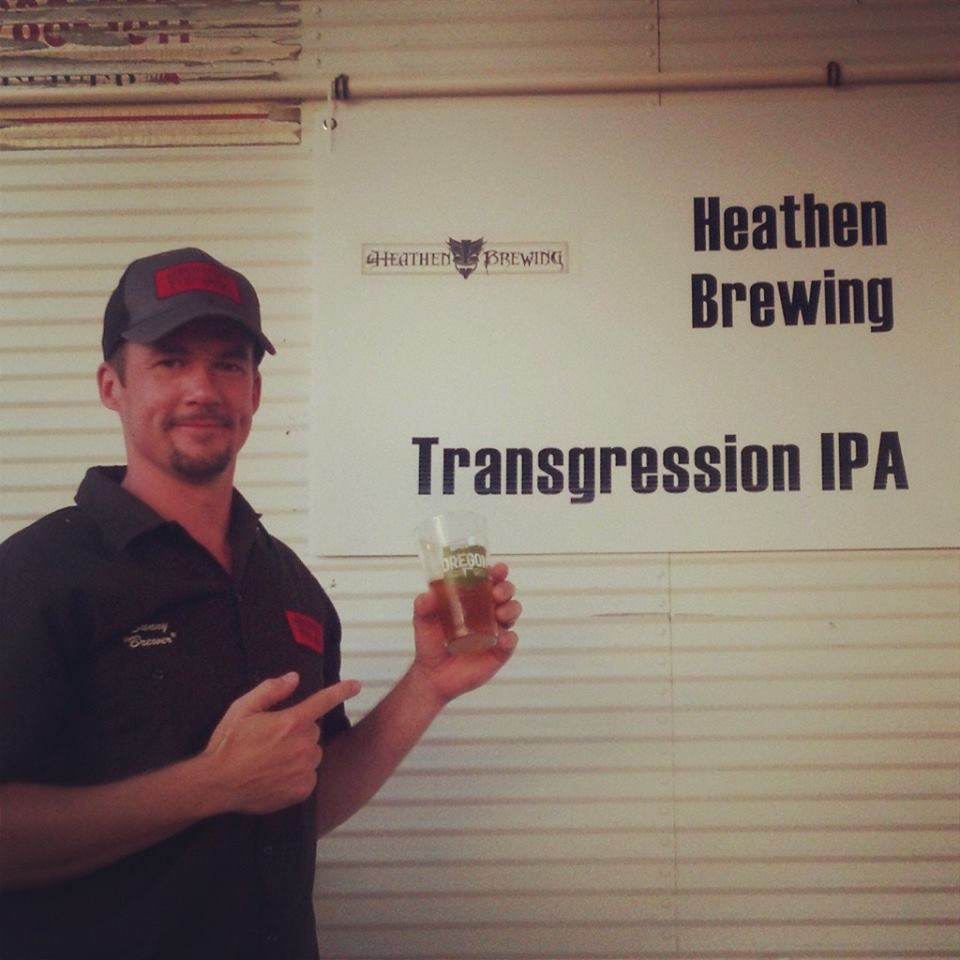 Heathen Brewing is making waves in Portland, plundering a grand prize from the beer-crazed city and bringing it home to this side of the river.
The brewery, which opened last September in Hazel Dell, won the first Battle of the Brews competition at the 26th annual Oregon Brewers Festival, which ended on Sunday. The company beat out 63 other breweries from across the country in the social media based competition.
"They were also one of the top 10 brewers overall," said Chris Crabb, OBF's media director. "Heathen is like the little brewery that could. They've been very good at reaching out to fans and they had a lot of buzz going on."
Heathen's "Transgression IPA" ranked the third most popular beer — and the top IPA style beer — out of offerings from more than 80 brewers at the festival, according to OBF's beer ranking app at http://coaster.me/.
Heathen also beat Vertigo Brewing of Hillsboro, Ore. in the final round of the Battle of the Brews March Madness style bracket with 51 percent of the voting.
Sunny Parsons, who co-owns the brewery with Rodney Stryker, said he was thrilled to bring the award — which is basically a trophy and bragging rights — back to Vancouver.
"It's awesome," Parsons said. "It's great bringing it home to Clark County."
The first few rounds of Battle of the Brews took place before the brewers beers were available for tasting at the festival. But the last two rounds took place during the festival after the release.
"Basically to me it felt like a popularity contest in the beginning, and I thought since we're small we'd be out in the first few rounds," Parsons said. "But our fans voted, and once we got down to the Frothy Four we had judges that had tasted our beer."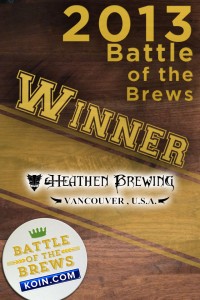 The brewery describes its "Transgression IPA" as a "light bodied IPA has a simple grain bill of Northwest pale, crystal and caravienne malt that brings a smooth silky texture. The infamous simcoe, citra (hops) bring a huge aroma and light citrus flavor, while the warrior brings just enough back bitter to make an IPA."
Heathen sold out all of the 30 kegs it supplied to the festival and has run out of the limited supply, but Parsons said he hopes to brew another batch when possible.
"It uses a specialty hops that's kind of rare, so we're trying to find more," Parsons said.
Stryker said winning the competition and notoriety at the well-known Portland festival was like "Vancouver going into the lions den" and emerging victorious.
And the company is starting to draw more Portland area folks over to this side of the river to check out Clark County's growing beer scene, which now includes more than a dozen small breweries, he added.
"The beer geek world — this is something new, cutting edge," Stryker said. "People like to be the first to check things out and they've been coming over to the brewery to try our other beers. Our scene is becoming more and more popular."
He credits Eric Surface, owner of Mt. Tabor Brewing in downtown Vancouver, with kickstarting the rise in Clark County beer culture when he moved his brewery from Portland to Vancouver in 2011.
"Eric kind of paved the road for the rest of us," Stryker said. "You've got to give him credit for that. Since then things have just been growing."
Parsons said he's been getting several calls from Portland bars that are interested in serving Heathen's beers. The company already sells its beer to some area restaurants and has a special beer it made with Northwest Liquid Gold in Orchards called "Heathen's Gold Pale Ale," which is available for growler fills.
Vancouver's West Highland Brewing, the only other Clark County brewer at the festival, also did well at the Oregon Brewers Festival, Crabb said.
"They had quite a bit of buzz with their Mango Moon ale," Crabb said. "And Heathen's IPA, to stand out with that style in a field that's that crowded in the Pacific Northwest, that's really impressive."
Brewers came from 14 states to participate in the festival, which holds a lottery each year to fill its 84 slots. This year, the festival had to turn away 40 brewers. There's no guarantee that Heathen or West Highland will return next year because of that lottery, but with the Clark County scene continuing to grow, it's likely local brewers will continue to be represented, she said.
"Recognition is growing because there are more bottle shops and brewers and the Vancouver Brewfest (in Esther Short Park Aug. 9-11) is helping to spread the word," Crabb said. "The scene is spreading north into Clark County, and anytime the scene grows like that, we think it's great."