Heathen in final round of Battle of the Brews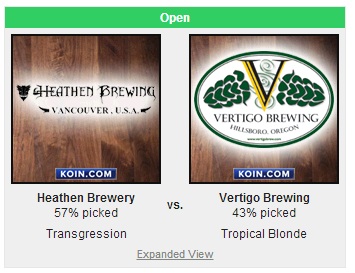 Clark County's Heathen Brewing has made it to the final round in the 2013 Battle of the Brews for the Oregon Brewers festival.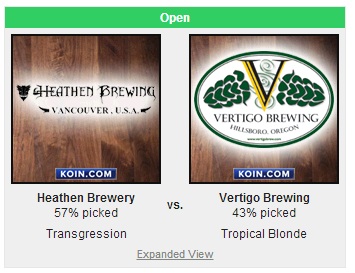 Heathen's "Transgression IPA" now faces Vertigo Brewing of Hillsboro, Ore.'s "Tropical Blonde."
Heathen Owner Sunny Parsons said:
"We made it to the FINALS!! Thank You All!"
Visitors to the Oregon Brewers Festival can try both beers and vote for a winner.
"We hope that you think our 'Transgression IPA' is the clear winner and you will cast a vote for Heathen," Parsons said. "The voting is live now through Sunday 11:59 p.m."
You can vote here: http://www.koin.com/more/contests/battle-of-the-brews-2013/
The winner of Battle of the Brews, which began with 64 breweries, gets a trophy and bragging rights.
"I am proud to be representing Vancouver and would love the Couv to take the trophy home to our side of the river," Parsons said.
Heathen's description of "Transgression IPA" is a "light bodied IPA has a simple grain bill of Northwest Pale, Crystal and Caravienne malt that brings a smooth silky texture. The infamous Simcoe, Citra (hops) bring a huge aroma and light citrus flavor, while the Warrior brings just enough back bitter to make an IPA."
Heathen also has a limited supply of Transgression IPA that it plans to release tonight (Thursday, July 25) for growler fills at the Brewery at 5612 N.E. 119th Street.
The company's second batch of Blackberry Heathenweizen will also be on tap tonight at the brewery along with fresh batch of the Promiscuous Blonde, Parsons said.