Heathen makes the Battle of the Brews semifinals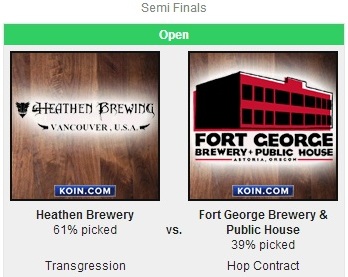 Clark County's Heathen Brewing has made it to the Frothy Four semifinals in the 2013 Battle of the Brews for the Oregon Brewers festival.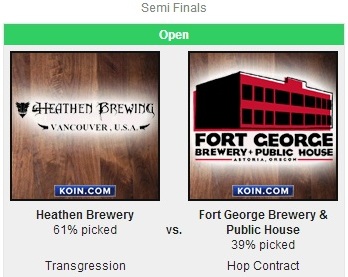 Heathen's "Transgression IPA" now faces Fort George Brewery and Public House of Astoria, Ore.'s "Hop Contract."
Heathen Owner Sunny Parsons said:
"Can you believe a Vancouver brewery is in the final four at Oregon Brewers Festival?! Ft George Brewing is a big brewery with a huge fan base so for us Heathens to come out victorious it will take the help of each and every one of you. Anyone with a Facebook account that has tried a Heathen brew and enjoyed it should vote. … The great news is that Wednesday the Oregon Brewers Festival opens. That means you can actually try our new 'Transgression' IPA and see why you are voting for Heathen Brewing."
The winner of Battle of the Brews, which began with 64 breweries, gets a trophy and bragging rights.
Voting in the Frothy Four closes on July 24.
"I am proud to be representing Vancouver and would love the Couv to take the trophy home to our side of the river," Parsons said.
Heathen's description of "Transgression IPA" is a "light bodied IPA has a simple grain bill of Northwest Pale, Crystal and Caravienne malt that brings a smooth silky texture. The infamous Simcoe, Citra (hops) bring a huge aroma and light citrus flavor, while the Warrior brings just enough back bitter to make an IPA."
You can vote here: http://www.koin.com/more/contests/battle-of-the-brews-2013/