Gluck – Making the Most of the Much Maligned Melano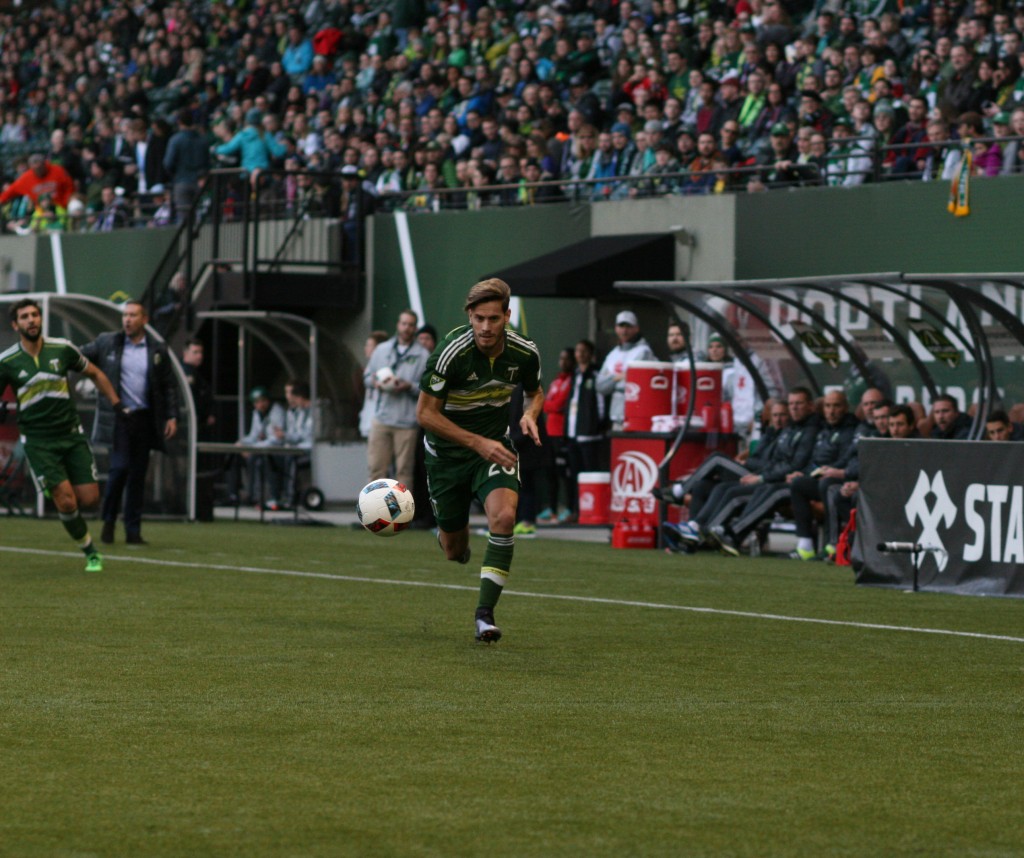 For most, the hot topic/question for the Timbers is… What to do about Luca?  
For me, it's certainly a short-term concern, but I'd submit there's a longer term question that still needs to be answered that far outweighs what to do about Luca.
To explain, if you will.
The Timbers have seen the trees through the weeds and first asked themselves this offseason:  Was the poor performance – for the whole team – a cause or effect of something more pear-shaped?
To be sure we've seen a multitude of players come and go from the Timbers organization and only ten (I think) have shown themselves to provide consistency of purpose on the pitch; Jack Jewsbury, Diego Valeri, Diego Chara, Darlington Nagbe, Fenando Adi, Donovan Ricketts, Adam Kwarasey, Will Johnson, Nat Borchers, and Jorge Villafana.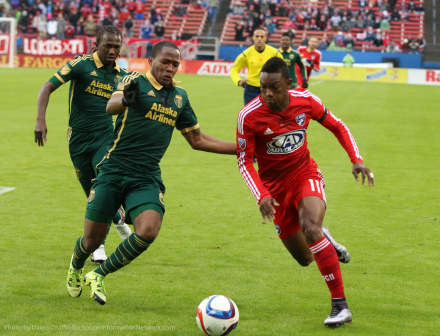 Yes, that leaves out a few players many rate as high quality; Liam Ridgewell, Rodney Wallace, Jake Gleeson, and Alvas Powell most probably.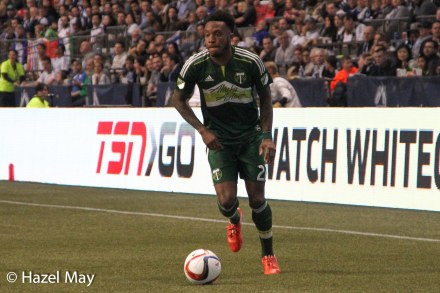 But it also leaves out Gbenga Arokoyo, Jack Barmby, Marco Farfan, Ben Zemanski, Darren Mattocks, Steve Zakuani, Michael Harrington, Steven Smith, Jermaine Taylor, Stephen Taylor, Steve Zakuani, Mike Fucito, Bright Dike, Jose Valencia, Kenny Cooper, Jorge Perlaza, Kris Boyd, Rauwshan McKenzie, Futty Danso, Eric Brunner, David Horst, Mikael Silverstre, Ryan Miller, Chris Klute, Zarek Valentin, Kalif Alhassan, Steven Evans, Bryan Gallego, Pah Madou Kah, Danny O'Rourke, Schillo Tshuma, Andy Thoma, Christian Volesky, Anthony Manning, Seth Casiple Nick Besler, George Fochive, Dairon Asprilla, Gaston Fernandez, Max Urruti, Norberto Paparatto, Sal Zizzo, Taylor Peay, Jack McInerney, Amobi Okugo, Michael Nanchoff,  Andrew Weber, Ishmael Yartey, Jeanderson,  Aaron Long, Frederic Piquionne, Brent Richards, Dylan Tucker-Gangnes, Andrew Jean-Baptsiste, Sebastian Rincon, Ryan Johnson, Milos Kosic, Nikita Kotlov, Victor Chavez, Freddie Braun, Charles Renken, Ian Hogg, Kosuke Kimura, Lovel Palmer, Steve Purdy, Joe Bendik, Eric Alexander, Franck Songo'o, Chris Taylor, Danny Mwanga, Hanyer Mosquera, Ryan Kawulok, Mobi Fehr,  Troy Perkins, Mike Chabala, Ryan Pore, Peter Lowry, Rodrigo Lopez, and Adin Brown.  Did I miss any?
All, at one time or another, were advocated, by the front office, as players who would help strengthen the Timbers organization.
So far this year the Timbers have added David Guzman, Jeff Attinella, and Roy Miller.
In summary, give or take, the Timbers have had roughly 90 player acquisitions with just ten showing great consistency of purpose and what I'd offer is a willingness to bleed Timber-Green.
Statistically speaking, that's just over 10% success in seeing previous player scouting and recruitment activities over the last four years.
Meaning, for me, the most pressing question is:  Have the Timbers made a good decision by hiring Ned Grabavoy as the Director of Scouting and Recruitment?
Ned has certainly made the most of his talents on the pitch, he's not blessed with great speed but his on-pitch mentality, hard work, solid first touch, and his 'give it all for the team' saw him have a solid playing career.
But can his on-pitch playing skills and leadership translate to off-pitch management skills in the office?
Running a player scouting and recruitment effort isn't about on-pitch mentality.
Myself, and others might suggest it's about having organizational skills, leadership, (short and long term) tactical and strategic planning, gaining the trust of Merritt, Gavin, and Caleb, and an understanding of how on-pitch statistics, and mentality of players, are interpreted, to translate how well the target player may fit into the system and tactics Caleb Porter wants to employ.  By far not a money-ball type situation – more a blending of art and science than science alone.
That offered…  Back to square one:  Making the most of the much maligned Melano and looking to answer the question – should the Timbers retain the services of Lucas Melano?
Team results – the bottom line on how success or failure is measured:
Soccer is a multi-dimensional game and even with an increase in goal outputs of eight (2015 to 2016) the Timbers failed to make the playoffs.  Indeed, they gave up 53 goals this year, a record for the Timbers and  20 more goals allowed than their first season under Caleb Porter.
So while Lucas may have added value in helping the Timbers increase goal productivity he certainly had some role in seeing the Timbers yield 53 goals against.
Of course that burden doesn't rest solely with Luca – nor does the increase in goals either – but the Timbers struggled in a huge way to replace Jorge Villafana and Rodney Wallace and Lucas was supposed to be an answer to Rodney…
Individual statistical assessment – a supporting tool, when weighted properly, in player scouting and recruitment:
Individual statistics have no surface value here (passing accuracy, shots taken, tackles, recoveries, etc…) other than providing a record of events.
What's more critical is what didn't happen versus what happened.
What didn't happen is Lucas hasn't scored as many goals as Kris Boyd, and while he's had more assists, he's also played with far superior talent (on the pitch) than Boyd.
Individual Observation – a critical assessment tool in player scouting and recruitment:
Luca hasn't continuously shown great skill with his first touch and myself, as well as others seem to agree, he lacked the ability to create space for himself and others…
And without the ball he appeared disengaged – even more so when the ball was on the opposite side of the pitch.
The phrase ball-watcher comes to mind…
I'd offer more but I think it's best offered from a Caleb Porter interview with FourFourTwo on Nov. 21.
Porter indicated the club is in the market for wingers that "help us execute our style of play. We want to press and if the wingers don't press then it doesn't work." In the same interview with Paul Tenorio, Porter indicates the club is still evaluating whether F Lucas Melano is a long-term fit.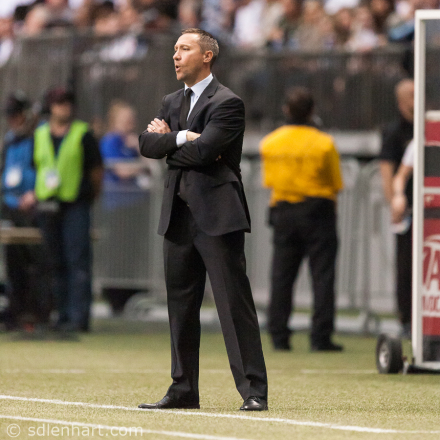 Hmmm…
So what's the skinny on how Lucas Melano will "help us execute our style of play…"?
Lucas Melano needs to improve his first touch.  Porter likes to see his team move the ball quickly, especially during a counter-attack.  And if precision in ball movement is needed so to is a great first touch.  Until he improves his first touch I don't see Melano helping his team execute Porter's style of play.
Furthermore, Lucas needs to up his mentality on the pitch.  The idea that someone can be observed, and labeled, as a ball-watcher (who appears disengaged) usually means that player doesn't have the right mentality to succeed.  When looking at that first list of players I offered earlier – all of them have a great mentality… in the words of a friend of mine – they look to bleed for the organization; Lucas doesn't.
So what about a tactical shift to try and use Lucas a different way on the pitch?  Perhaps move him up above Diego Valeri – a false 10 if you will?
A shift in tactical team alignment might work but is the juice worth the squeeze?
Tactically the Timbers could shift and play a more narrow formation – say a Diamond 4-4-2.  They certainly have the players for a formation like that.  There'd be Adi up top – with Lucas playing off Adi.
At the head of the diamond you'd have Diego Valeri while David Guzman would play the base of the diamond.  To the left – playing narrow – would be Darlington Nagbe, and to the right, also playing narrow, would be Diego Chara.
With a formation like this your width comes from the fullbacks while Melano's main tactics would include running lateral to the back-four, dropping deeper into the midfield as a connector, while purposefully trying to make and create space for himself and others across the width of the pitch.
The challenge here, however, remains the same.  To play a false 10 a player needs to have a great first touch – and – they also need to be 100% engaged (both on and off the ball) in order to maximize team opportunities.
If Lucas Melano isn't in a position to improve his first touch, nor does he show a capacity for a stronger mentality on the pitch, then all Porter has done is shifted his problem from the wings to the middle.
Is the writing already on the wall?
In an article on Dec. 27, Goal.com's Ives Galarcep reported that the Timbers are in the market for a Designated Player winger to replace Lucas Melano, who is drawing the interest of clubs in his native Argentina.
One source tells Goal USA that the Timbers are in the process of trying to sign a designated player to play as a wing midfielder, an addition that would help offset the expected departure of Argentine midfielder Lucas Melano, who the Timbers are preparing to unload after a disappointing two seasons in Portland. Multiple Argentinean clubs in the market for Melano's services.
In that same article, news was offered that Rodney Wallace may be returning to the Timbers.  Here's a direct quote on that topic as well:
Another player who could make his way to the Timbers is former longtime Portland midfielder Rodney Wallace. A key figure on the Timbers' MLS Cup-winning team in 2015, Wallace is currently playing for Brazilian side Sport Club do Recife. The Costa Rican international told Goal USA last month that he would be open to a return to the Timbers, though he remains under contract in Brazil and would have to resolve that in order to pave the way for a return to the Timbers.
In conclusion:
The Portland Timbers need players and a system to compliment Diego Valeri, not Lucas Melano.
And while the speed Lucas offers, adds value, I'd submit there's too many to-do's for Lucas to continue playing in Portland.  The bigger question, however, still remains.  Can the Portland Timbers improve their overall player scouting and recruitment enough to where they don't find themselves in a position like this next year?
What are your thoughts?
Best, Chris
COPYRIGHT – All Rights Reserved.  PWP – Trademark