Trail Mix: Lillard's USA Basketball chances get a boost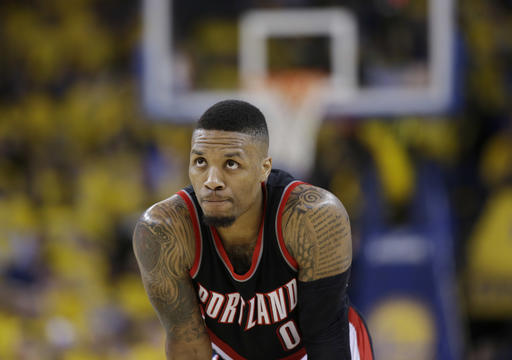 The odds that the new Dame DOLLA album will include some samba beats just got better. It looks like Portland Trail Blazers guard Damian Lillard will be spending some time in Brazil this summer, now that Golden State's Stephen Curry will not participate in the upcoming 2016 Olympics.
Curry suffered a knee injury in the playoffs, which he is citing as the main reason for his absence in the upcoming Olympics.
Via Marcus Thompson of the Bay Area News Group
"After a great deal of internal thought and several discussions with my family, the Warriors and my representatives, I've elected to withdraw my name from the list of eligible players on Team USA's preliminary roster for the 2016 Summer Games in Brazil. I recently informed Jerry Colangelo of this decision."
Thompson also wrote that several other potential Team USA players, including another competitor at the point guard spot in Oklahoma City's Russell Westbrook, could stay home to avoid the Zika virus. Westbrook, Cleveland's LeBron James and Golden State's Andre Iguodala may not be in Rio.
Over 200 health care professionals have signed a petition to the World Health Organization to either relocate or postpone the games in Rio. According to Thompson's report, players are already being advised to sleep in malaria nets to avoid catching the virus.
If Westbrook does stay that will leave him, 2014 Team USA member and Coack K favorite Kyrie Irving, Lillard and Memphis' Mike Conley vying for three point guards spots. They could carry more than three point guards in theory, but they only took three to the 2014 World Cup (Irving, Curry, Derrick Rose). Washington's John Wall is recovering from knee surgery and has been removed from the player pool.
No matter how it goes, at least Lillard will have a friend close by. Blazers guard CJ McCollum is officially part of the USA Select Team, which will scrimmage against the Olympic team, as of Tuesday.
Here's the group that will make up the USA Select Team, which will be coached by San Antonio's Gregg Popovich.
Selected for the 2016 USA Basketball Select squad were: Malcolm Brogdon (University of Virginia); Devin Booker (Phoenix Suns); Kentavious Caldwell-Pope (Detroit Pistons); Willie Cauley-Stein (Sacramento Kings); Kris Dunn  (Providence College); Aaron Gordon (Orlando Magic); Jerami Grant (Philadelphia 76ers); Gary Harris (Denver Nuggets); Rodney Hood (Utah Jazz); Brandon Ingram (Duke University);Brice Johnson (University of North Carolina), Stanley Johnson (Detroit Pistons); Zach LaVine (Minnesota Timberwolves); CJ McCollum (Portland Trail Blazers); Doug McDermott (Chicago Bulls); Emmanuel Mudiay (Denver Nuggets); Jahlil Okafor (Philadelphia 76ers); Jabari Parker (Milwaukee Bucks); Julius Randle (Los Angeles Lakers); D'Angelo Russell (Los Angeles Lakers); Marcus Smart (Boston Celtics);Myles Turner (Indiana Pacers); Denzel Valentine (Michigan State University); Justise Winslow (Miami Heat) and Cody Zeller (Charlotte Hornets).
While McCollum will just be scrimmaging against the Olympic team, he is now in the USA Basketball pipeline. Although he won't be able to make the Olympic team this season, this gives him a chance to be considered for future teams.
Finally, Dame DOLLA released another new song yesterday as part of his Music Monday releases titled "Isley."
Lillard was also named the "Male Professional Athlete of the Year" at Monday night's Oregon Sports Awards.
Blazers head coach Terry Stotts was a guest on Tuesday's Chris Mannix Vertical Podcast. You can listen here.